There is a concept of Gate Crashing which I guess most of you are aware of. The term means every tom dick and Harry or Ram Shyam and Hari gets into a certain things irrespective of what the minimum eligibility requires.Thats what the "Haalat" of Indipop music in our country. Anyways, one good aspect of gate crashing is that it also sometimes bring some noteworthy people as well. Vasundhara Dass Meri Jaan is an above average effort amongst the new entrants. To most of the people Vasu is remembered as the gorgeous girl in "Hey Raam" who gave some very hot scenes with Kamal Hassan. Lekin Ab, she is out to prove that she is just more than a bombshell on the silver screen.
"MERI JAAN " is her first ever attempt at singing in Indipop. The album has a total number of eight songs which are of 3-4 minutes of duration each. MJ also has contributions from real talented and old timers such as Sukwinder Singh as well. The attempt of Pravin Mani, the composer has been to make every song very different from the other ie. Different influences, different instruments etc. He has succeeded in a certain way in doing so. The title song "Meri Jaan" is now getting popular with the people already. In this effort , Vasu uses her voice in unstable variations, she goes up and stretches the words very well without no breaks et all. The uses of Dholak, Tabla adds some flesh to the shrill voice and actually makes it a treat to listen.The rhythm too is pacy and consistent. The backdrop behind the song is searching for the beloved and expressing all the hurdles cleared to meet the beloved. An old theme but presented differently. Another thing to be noted is that most of the songs depict new and varied backdrops rather than the regular "heart brake , heart brake fail" stuff. "Bheegi Dastaan" is the second song. It has the same romantic theme but here we see more of Western influences such as Bass Guitar etc.

The title song has more of pure classical Indian stuff. The song connotes the setting of a tale set in rain and how the rain makes the setting more interesting. A new platform on an old backdrop. So, then we get on to no.3 which is "Ghar Mera" . Here Vasu sings in with a lot of intensity but same old style. Here the voice gets a little boring which might attribute to the average music in the background. One good thing is the theme. Here it is home , ghar , apna ghar , dwelling which is "SAHI MEIN" very very innovative and new. Hats off ! for the theme to lyricist "Piyush Mishra".Hope he will churn out better and better. Percussion here is pretty ok. "Bola Re" is the last song on side one. Accordingly , I guess this is the attraction of the album. "

Here the Pravin Mani gang takes us to the Carribean form of music. To novices, Carribean music is the same kind of stuff which you hear in the "KINGFISHER" brand beer TV campaigns starring apna Dilli boy Ajay Jadeja. To put this concept to reality , a Cuban band called "ACANA" has been hired. Vasu here takes full advantage of the chorus as it gives depth to her shrill voice. The lyrics here are pretty strange which depict a comic setting of people from all over the world related to a fellow. One line says "Tera Khwabon Ka Shamiana" .. hahaha. My God , its just a song not a wedding ceremony. Mishra jee , please write something more concrete. All in all , a good effort But with no content. Now we move to Side no.2 . "Mera Nishaan" is the sole number in MJ which has an Arabian touch to the music which is pretty haunting. Voice of Vasundhara fits the bill and the setting as well. Some Arabic chants give some freshness to the lyrics which tells the story of the beloved related to a symbol of love. Passing marks here. "Aao Yaar" is an average Indipopper cheering the depressed souls of the world. Peppy lyrics but doesnt sync well with the singers voice and the mood. Its pretty difficult to listen to such a song after an Arabian number. Phew!! Sequence also counts. Doesnt it??? Now , we shift our focus on Sukhwinder Singhs contributions.

Sukhi is not a newcomer as people relate to him as the "Chhaiya Chhaiya" singer from Ma I Like Her , I mean Malaika Arora song from "Dil Se". He has sung a very popular song "Aaja Sanam" from the Chunky Pandey , Madhuri Dixit starrer "Khilaaf". In Vasus "Mere Mehboob" you see the traditional Sufi style of devotion singing with a lot of melody as well. A worth listening number with very good lyrics and music to fit the setting. The theme here again gets saturated to Mr. Beloved which is actually very irritating. Anyways, Sukhi saves the day. So , we now end the album with a pacy , dance , raunchy number "Sohni Sohni" which has the only Punjabi pop influence in the whole album. Strong beats with some Dhol dominate this effort. Makes for good jiving but nothing new to offer. To finally call it a day, I would suggest that you go and buy Vasundharas maiden effort. Oh yes! The work is good but dont look for Celine Dion !! Cheers!!!!!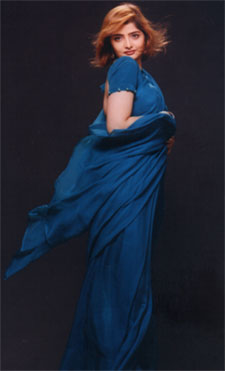 Meri Jaan
(Source : www.aladhin.com)


She's hot and she's cool at the same time ! she's the babe who set the silver screen on fire with her terrific performance in the much - hyped 'Hey! Ram' co-starring Kamal Hassan. Though the film sank without creating any music, but her performance stood intact. Now she's got one more ace up her sleeve, i.e. she's a looker alright, but she can croon too ! she's none other Vasundhara Das, who's all set to take on the music industry with her 'Meri Jaan' her debut Hindi album. The album's got 8 cool tracks (not as cool as her though). The title songs takes away not only the cake, but the entire bakery. 'Bheegi Daastaan', 'Ghar mera' & 'Sohni Sohni' forms a hat-trick of mellow-dious tracks. 'Aao yaar', & 'Mera N Ishaan' are cute though, but the cutie-pie in the lot is 'Bola Re' that features a band from cube, & the bands called Acana. To sum it up, all that one can say is 'Meri Jaan' is music Ki Shaan !!! Go for it !!!