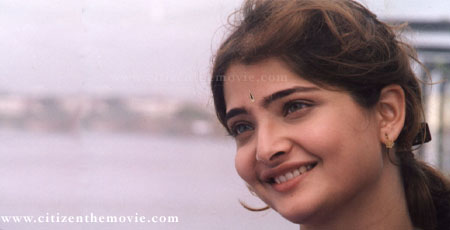 Review of the film 'Citizen'






(Source : www.chennaionline.com)


Director: Sharavanan Subbiah
Cast: Ajit, Vasundhara Das, Meena, Nagma, Ajay Ratnam, Pandian, Devan.

A district collector, a judge, and a police official are all kidnapped in broad daylight, the kidnapper cocking-a-snook at the establishment, calling himself 'Citizen' and appearing in different disguises to get at his targets. C.B.I. officer Sarojini (Nagma) finally traces the common factor among the kidnapped trio to Athippatti, a small hamlet consisting of fishermen. But to her surprise both the village and its 600 odd inhabitants seemed to have been wiped away from the face of the earth. The diggings tell a story of a mass massacre that must have taken place about a couple of decades back. 'Citizen' is finally apprehended. He comes out with his story of the gory happenings at Athippatti and how he, as a little boy, had been the sole survivor of the nightmare that gripped the village that day, twenty years back.


It looks more like the work of a seasoned master, than a debutant, for Saravanan Subbiah has planned his script meticulously to make it look different from the routine ones. The narration moves at a fast pace, and the scenes are expertly handled - particularly the ones relating to the discovery of the mass grave. There are a couple of loose ends, some unanswered questions and a lagging in the second part where the scenes relating to the 'Flashback' are narrated. The end too is rather tame, for 'Citizen' is let scot-free by the court. The men he had kidnapped had been produced alive, and he did have his reasons. But then what about all those cops on duty, who were killed by this man? One wouldn't also agree with the 'Citizen's' suggestion of the method of punishment to be meted out to the three culprits. Rather mild for the men who were responsible for the mass gory murders!

Ajit has put in a lot of effort, handled his dual role and all those disguises with Úlan. His best scenes are as the tormented fisherman of Athippatti. Vasundhara, as the bubbly, naughty Indu, wearing her heart on her sleeves and tirelessly wooing the hero, seems to have finally found her slot, and can give the existing heroines a run for their money. Meena as the fisherman's wife, and Nagma as the C.B.I officer play their parts well. Though it did take time to get used to the new harsh voice dubbed for Nagma!

Deva's music is catchy. 'I like you' sung by Vasundhara herself (though it reminded one of an old Hindi song), and 'Chikku mukku' are well rendered and picturised. Setting the mood to the scenes with his brilliant lighting is the excellent cinematography of Ravi. K. Chandran. 'Citizen' is a movie to be watched and is the most ambitious project from the Ajit - NIC arts combination.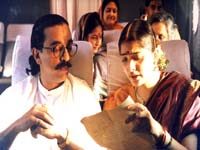 Review of the film 'Hey Ram'
(Source : www.indiainfo.com)

An attempt at unconventional cinema, the film revolves around the Hindu-Muslim problem, starting from the days of partition to the Babri Masjid issue. The message the film portrays is that of how a series of events can trigger off riots and wreak havoc on innocent people.

Saket Ram (Kamal Hassan) is an archeologist in Mohenjodaro and has a lovely wife Aparna (Rani) in Calcutta. But during the partition riots, Aparna is raped and killed by the neighbourhood Muslims. In a fit of rage, Ram kills them. While on a guilt trip, he meets Abhayankar (Atul Kulkarni) who is a staunch believer that Gandhiji is responsible for all the chaos in the country.

Saket Ram returns to his hometown Madras and gets married to Mythili (Vasundara Das), a girl full of beans. He takes Mythili to Maharashtra where Abhayankar introduces him to a Maharaja (Vikram Gokhale), the leader of the group. It is decided that Abhayankar and Ram should assassinate Gandhi. But Abhayankar is paralyzed after a freak accident and Ram decides to go ahead as planned.

As he waits for his orders in Madras, he learns that Mythili is pregnant. But on getting orders, he leaves his wife and goes to Delhi where he meets his friend Amjad (Shah Rukh). Due to the tension in Delhi between Hindus and Muslims, Amjad gets killed while Ram tries to save him. Ram is too hurt to react. He meets Gandhiji (Naseeruddin Shah) who tells him that he's not a Mahatma, and that if by killing him could solve the problem, he is ready to die. Ram has a change of heart and wants to confess, but it is too late. Nathuram Godse becomes a part of history.

Kamal Hassan has attempted to show Gandhiji in a different light, depicting the human side of the Mahatma. Kamal Hassan, as usual, has acted par excellence. But the direction is only passable. The first half of the film is slow and at times, vague. The controversial kisses and love making scenes are out of place and unnecessary, though the second half moves at a faster pace. Shah Rukh is controlled and plays his part effectively. Rani hardly gets a chance to act because she's busy kissing. Newcomer Vasundhara Das is good and relates well to her character. Naseer is effective, though his voice doesn't match the character. If you blink, you'll miss Hema Malini, Girish Karnad, Sourabh Shukla and Abbas. Moral of the story - don't blink.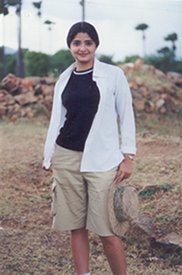 "Shakalaka Baby"

(Source : www.indiamoviebiz.com)

Will the "Shakalaka Baby", Vasundhara Das be able to give a long over due hit to super star Mohan Lal? Vasundhara the little nymph who has absolutely no Malayalee looks is now shooting for Ravana Prabhu with Mohan Lal at Pollachi. Vasundhara Das a trained classical singer was launched by A.R.Rahman with the song "Shakalaka Baby" and later recommended by him to Kamalhassan for Hey Ram.

Her immediate release would be Citizen where she is playing Ajith's heroine and Hollywood director Meera Nair's Monsoon Wedding. Vasundhara Das who was very choosy had last month refused to play second fiddle to Soundarya in Mani Ratnam's new film. Instead she gave bulk dates to Mohan Lal and his personal assistant Antony Perumbavoor, the producers of Ravana Prabhu. According to Vasundhara Das, "Mohan Lal is one of the living legends of Indian cinema and it is truly a dream come true for me to be paired opposite him."




Raavanaprabhu
(Malayalam film)

(Source : www.cinesouth.com)

Actors - Mohanlal, Nepolian, Vijayaraghavan, Innocent, Ratheesh, Jagadheesh, Siddique, Manoj.K.Jayan, Saikumar, N.F.Vargheese, Sriraman, Augustin, Ramu, Madhupal, Nadhirsha


Actress - Vasundara Das, Revathi, Nalini, Sukumari, Manju, Kashmira Shah


Story & Direction - Ranjith


Music - Suresh Peters


Lyrics - Girish Puthenjeri


Production - Antony Perumbavoor



More Reviews Raavanaprabhu Rakshasa Rajavu Narendran makan Jayakanthan Vaka Ee Parakkum Thalika Aakasathile Paravakal Karumadikuttan Kakkakuyil Randambhavan Megha Sandesham Vakalath Narayanankutty Sharjah To Sharjah Nagaravadhu Soosanna Joker Bhadra Randaam Bhavam Nakshatrangal Parayatirunnatu Mazha Peyyumbol Cover Story C.I.Mahadevan Anjadi Anjinju Aandholanam Aanamuttathe Aangalamar Madhura Nombarakkattu Dubai Vallyettan Swayamvara Pandal
As usual, this Mohanlal picture also continues its triumph towards a mega hit, holding the top position among the Onam releases for the last one month. Definitely, both Mohanlal and the director Ranjith can claim the success of this movie for their combined and sincere efforts.

To be the first film itself a mega hit - It's the dream of every new born director. Now, Ranjith has been successful in his first venture as a director and with the success of only this movie, he could come to the mainstream of Malayalam Cinema.

By taking the responsibility of story, screenplay, dialogue and direction, he's proved his inborn professional touch in his first venture itself. He could re-write the superstition that the second part of any film will never be successful at any case. His talent to make words both as burning fire and horripilating love is really amazing! He's taken special care in presenting the character, Mangalasseri Neelakandan so perfectly not only in the appearance and face expressions but in the conversation also - That's the advantage when a script writer becomes a director. As a whole, Ranjith has played a major in making this film a Super hit. He could overcome even the natural mistakes that every newcomer usually commits.

For Mohanlal, it was the success of the 2nd part of his prestige film, 'Devasuram'. He's performed each & every scene so sincerely and perfectly while he's playing the roles which are standing on two corners when comparing their behaviours, we are even getting confused if both 'Mangalasseri Neelakandan' and 'Karthikeyan' are played by 2 different actors. Definitely, it's another milestone in his career.

The presence of Vasundhara das as the heroine is also helped in making this movie popular.

The songs tuned by Smesh Peters makes this movie a perfect entertainer too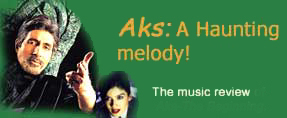 AKS - A Haunting Melody
(www.rediff.com)


Dark, haunting, mystical.

The music of Aks - The Reflection, starring Amitabh Bachchan, Raveena Tandon, Manoj Bajpai and Nandita Das is a high.

Inspired by John Woo's Face Off (John Travolta, Nicholas Cage) and Fallen (Denzel Washington), a sombre note hovers prominently throughout the album.

The credit goes to Anu Malik and Gulzar's stark poetry that seamlessly blends with Anu's tunes. Ranjeet Barot's cool acoustics and instrumentation are another plus point in this album.

Yeh raat is a sensual, aggressive number sung by the husky-voiced Anupama. This one is poised to go down well with the listeners.

Bhala boora is an eerie rap number laced with black humour. Rendered by the voice: Amitabh Bachchan. Some of its strains are reminiscent from the theme music of Being John Malkovich. Indrajit Sharma has composed this number.

Shubha Mudgal leaves you spell bound with the enchanting Raat aati hai.

Rabba rabba is a fusion of folksy and Arabic tunes with electronic instrumentation by Sukhwindara Singh and actress-turned-singer Vasundhara Das (Hey! Ram).

Hariharan's Hum bhool gaye falls in the category of some of his earlier heartbreak songs -- Tu hi re (Bombay), Nahin paas main (Taal). Nice touch of violins in this composition. There's another version of this song by Chitra.

K K and Vasundhara Das in Aaj gufaon mein are superb. It's a bewitching, seductive track.

Ramleela is the outcome of an imaginative modern day jugalbandi between Amitabh Bachchan, Nandita Das and Kavita Mundra. And in this version, Ravana (Amitabh as Ravana) wins hands down.

Banda bindaas is a Jamaican-style track with a difference -- it sounds remarkably like the tune of the Bacardi commercial on air than a songtrack.

All in all, Aks is a captivating album with funky, experimental, new age music. Go for it.


Music Reviews

(Source : www.bbc.co.uk)

Lagaan
Music: A R Rahman

'Lagaan' is the much anticipated soundtrack from Aamir Khan's equally anticipated film to be released in June this year. I'd been looking forward to listening to the music, especially after hearing the wonderful treat that was 'Zubeidaa', produced by the same team of A R Rahman and Javed Akhtar.

The CD arrived and I savoured the opening of the well packaged disc which includes a full cast and crew listing, lyrics in Hindi and a stylish inlay. On my first listen, I wasn't taken aback as much as when I first listened to 'Zubeidaa', but maybe that's because by I'd already grown accustomed to the traditional sound that both soundtracks offer.

I've listened again and again and I'm still enjoying the classic Hindi film sound that has not even the slightest hint of 'western pop' which is prevalent in many Hindi soundtracks today. There is some western influence as Rahman includes some waltz and opera! This though seems to be in the context of the film, which is set during the British Raj in India and Rahman somehow manages to blend the waltz and opera effortlessly into his music, Bollywood musicians will never cease to amaze me!

Maybe it's the Gujarati in me or the grandness of it, but I really liked the opening track 'Ghanan, Ghanan' which is about a community evoking the monsoon - it's the track you'll hear most of up to the release of the film; very rich with a range of voices including Udit Narayan, Alka Yagnik, Sukhwinder Singh, Shankar Mahadevan, Shaan and Kishor Gowariker!

'Mitwa' and 'Chale Chalo' are both feel good songs with inspiring, but catchy lyrics and 'foot tapping' beats. 'Chale Chalo' features the voice of A R Rahman singing alongside Srinivas. 'O Rey Chori' and 'Radha Kaise Na Jale' are both love songs. The first a duet with Udit Narayan and Alka Yagnik with a hint of Vasundhara Das' amazing vocals which can easily lead you to believe that the singer is English!

The second of the two love songs is a playful track by Asha Bhosle, Udit Narayan and Vaishali, based on Radha's jealousy as Krishna flirts with all the 'gopis' (cowgirls) he meets, featuring more classic Gujarati sounds!

What more can I say about 'Waltz for a Romance' - it is a waltz featuring the violin, viola, clarinet and cello and yes it is romantic, I look forward to seeing how it's used in the film.

'O Paalanhaare' by Lata Mangeshkar and Udit Narayan is a simply beautiful bhajan, meticulously composed and arranged and with an amazing calming influence.

The soundtrack ends with 'Lagaan... Once upon a time in India', a grandiose track featuring a mix of different sounds from fanfares to strings and a hint of 'The Omen' - very interesting and an excellent end to an excellent soundtrack.


Music Review: Nayak: The Real Hero

(Source : http://bollywoodstyle.8m.com)

Director: Shankar
Starring: Anil Kapoor, Rani Mukherji and Amrish Puri
Music: A.R. Rahman/Anand Bakshi
Singers: Udit, Kavita Subraminiam, Vasundara Das, Shiraz Uppa, Pravin Mani, Alka Yagnik, Shankar Mahadevan, Haans Raj Hans, Sunidhi Chauhan, Abhijeet, Sanjeevani and Hari Haran
Rating: 8.0

(Extract)

Shakalaka Baby maybe another example of the bad lyrics on this soundtrack, but one has to admit that the apt singing, and catchy (though very pop style) beats are mildly entertaining. Arguably one of the more unique songs on the soundtrack this song will most likely feature Sushmita Sen who is doing a special appearance in the film. Vasundhara Das, who should be given credit as she shines in all of her featured songs, does a good job without overdosing the feeling or sounding screechy. The other singers, Shiraz Uppa & Pravin Mani too add their talented vocals to a decent tune and do a good job. The title may turn you off, but the song is worthy of listen.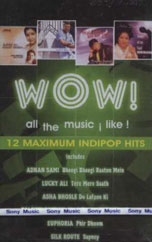 Wow! All The Music I Like!

By: Various Artists

(Source : http://music.sify.com/)

WHERE compilations go Wow! All The Music I Like has a double advantage. This album, brought out by Sony Music, contains all the hot favourites in not only the indi-pop world, but also has a few songs from Hindi film singers. The singers who feature in the album include Lucky Ali, Adnan Sami, Vasundhra Das and Asha Bhonsle.

Wow! All The Music I Like begins with the Adnan Sami number Bheegi Bheegi Raaton Mein from his record breaking album Kabhi To Nazar Milao, which he had brought out in collaboration with Asha Bhonsle. And talking about the lady with the golden voice, her Do Lafzon Ki, from her private album Songs Of My Soul also features here

Next we have Lucky Ali singing Tere Mere Saath from his album Aks.

Dandiya Queen Falguni Pathaks title track from her album Meri Chunar
Udd Udd Jaye follows. On the same side we also have Euphorias Phir Dhooms title track.

Silk Route, which has almost disappeared now, also finds a place here with Sapney Hai from their album Pehchan. Following this we have Kumar Sanu with his Kehna To Hai.

Shaam Dhale from Ustad Sultan Khan & Chitras Piya Basanti is next. Chale Re, another track from the same album is also present in the album.

Vasundhara Das too finds a place here with her Meri Jaan, following which we have the Balle Balle Boys singing My Name Is Manjeet.

The last number is Ooei Ooei by Jojo & Rahul D`Mello.

Verdict:Where compilations go, this one is unique as it doesnt really focus on any single genre, but encompasses the best of all, ranging from bhangra to disco.