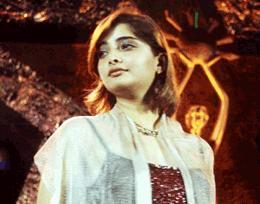 Everything has to have a bit of me.
(Source : www.hindisong.com)

She has it all oomph, talent, the best songs, great films with good directors. Here, a low-down on the South Indian light-eyed lass, singer-actress Vasundhara Das.



Vasundhara Das is a typical Bangalorean girl from a conservative Brahmin family. She began taking singing lessons from her grandmother from the age of ten. Later, she continued under the Pandit from Kaharwa Gharana, Parameshwar Hegde (and still does).



During college, she was a member of an all-girl band which gave many highly appreciated performances. The band also performed at Freedom Jam gatherings where all artistes played for free and got to meet other artistes. As a member of two bands, Jam Tree and River, she got the opportunity to be a part of fusion music. Vasundhara was inspired by many genres of music and artistes ranging from Joan Baez to Trilok Gurtu. She was also influenced by Spanish music. Her eclectic interests are obvious in her debut album Meri Jaan.


It was when she was in Chennai scouting for chances to sing playback in films that she got the offer to star opposite Kamal Hassan in Hey Ram. How was it acting with Kamal? She says it was a great learning experience and rates him among Indias top actor directors.



Her career as an actress is going great guns since she has bagged major roles in Citizen opposite Ajith Kumar and Acham Thavir opposite Madhavan. This lass is open to doing good films in any language.



And her career as a singer? Meri Jaan launched her career in Indipop and was noticed for its different music in each song. The album has influences of Arabic, Latin and Spanish sounds in its songs.



Shes made a mark in playback singing too. Rahman gave her the opportunity to sing Shakalaka Baby in Mudhalvan, a Tamil film. The song went on to become a super hit and Das won a Filmfare award for it in 1999. Shes sung for Lagaan and Aks. Besides, shes singing for herself in Citizen and Acham Thavir too.



And shes got a role in Mira Nairs Hollywood film Monsoon Wedding, a story about a Punjabi family. Naseeruddin Shah plays her father while Shefali Chayya acts as her sister in the film. Vasundhara plays a Punjabi girl and for a South Indian Iyer girl, this is quite a challenge.



What does she see herself as a singer or actress? Both, though music occupies a very special place in her heart. Everything has to have a bit of me, she sums up.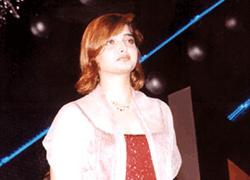 A conversation with Vasundhara Das

(Source : indbazaar.lycosasia.com)

I have four careers: singing for films, non-filmi singing, performance as in concerts, road shows and promotionals, and an acting career, Vasundhara Das explains.

The lady who made her singing debut with the extremely popular Shakalaka Baby and caught a lot attention as Mythili in Kamal Hassans movie Hey Ram! has just recently cut an album called Meri Jaan, which is being extremely well received by music lovers.

Vasundhara, literally lives out of her suitcases these days. Though based in Bangalore, she is constantly catching flights, one day for recordings in Chennai and one day to Australia for the shooting of her upcoming project, Citizen.

Dressed casually, with absolutely no makeup, Vasundhara looked like the girl next door. It was not the glamorous Vasundhara that one catches on the screen.

Sipping iced tea at a friends place, Vasundhara opened up for conversation. I took to music at the age of ten, she tells us. It was her mother and her grandmother who were keen on her learning music. In that sense, my grandmother was my first guru. Before I could understand and make a choice, I was already learning music, she says.

Vasundhara first learnt under guru Lalitha Kaikini and is presently training under musician Parameshwar Hegde.

Even as a student in Mount Carmel College, she was constantly juggling classes, practicals and music lessons.

The first music break came when Vasundhara decided to go to Chennai and search for opportunities to do some quality singing. She found Pravin Mani, a Canada based music producer. Pravin and Vaundhara cut a demo, mostly comprising Spanish music and were satisfied with the results. Its he who introduced her to music genius AR Rahman, later.

With Rahman as music director, Vasundhara has sung for Rhythm and also a number in Rajeev Menons Kandukondein. How was it singing with one of the top most music directors in the industry? He is very open minded. Though he says pretty well what he wants from you.. but above that if you can do something better, or improvise, he lets you do that..it is up to you..

It was also thanks to Pravin Mani that Hey Ram happened. He knew that Kamal was looking out for someone to play Mythilis role and introduced Vasundhara to him. And Kamal offered her the role.

Since she started off as a singer, what was her parents reaction to her taking up acting? They were a little surprised. But then, it is part of the entertainment business.. says Vasundhara.

Which is her first love, music or acting? Music is my first love, but now its a huge challenge to act as well...

Right now, Vasundhara is shooting for Citizen, with actor Ajith. She also has a Tamil film, Acham Thavir and a couple of projects in Malayalam. She is also singing in all these projects. In Kannada, acclaimed director Nagabharana approached her and she has sung two songs for Neela. It is very folkish.. you wont believe it when you hear, she says. She is also singing in the Amitabh-starrer Aks.

How does she manage to sing in so many languages? Though she is a Tamilian, Vasundhara knows Kannada pretty well. Managing Telugu and Hindi has never been a problem, she says.

What does she look for while taking up a role? Basically a strong character and something I can identify with.. That came along when she was cast for Mira Nairs Monsoon Wedding alongside actors like Naseeruddin Shah, Kulbhushan Karbandha and actress Shefali Chayya. We had a workshop with Naseer before the shoot started. It was very helpful..it taught me that acting was not about just acting, it is also about being what you are..

Who are the other directors that she would love working with? Vasundhara says she would love to work with directors like Maniratnam and Shyam Benegal too.

What about the balance between acting and singing.. and the travelling..since she is in show biz, she also to keep herself in proper shape and her music practice, where does all this fit in?

Ideally, one should do all that..I try hard to keep it up.. Im just figuring that out. Keeping up with everything is a challenge..

With most of her recordings in Chennai, one wonders if she plans to shift base from Bangalore? My huge family is here.. in the sense that my fathers sisters, and cousins are all here.. I cannot get uprooted just like that.. we are a very close knit family.. she says. Her own family includes her mother, Nirmala, who is a PR person at the Indian Institute of Sciences ASTRA and her dad who is the director of an MNC.

She loves Spanish music and Arabic music. Her favourite singers include Aziza Mustafa and Zadeh.

While on flights she tries to catch up on sleep, while between her shootings, she catches up on her reading. She is right now reading Ayn Rands Fountainhead. She has managed to read two of Harry Potter series.. shes also read Gabriel Garcia Marquezs One hundred years of Solitude..

How about movies? Does she catch up on films? Whatever I manage to watch, I watch, she says. She raves about the film (phi) that is all about mathematical patterns and how everything in life boils down to that.

Where does she hang out while in Bangalore? Freedom Jams, Pekos,
Casas, The Only Place..

Does she catch up on sport, cricket for instance, since cricket is all over the place these days? Though she doesnt watch much cricket, whenever there is an Indian-Pakistan match, I watch it along with the others, for the excitement, she adds, with a giggle.

How does she see herself ten years from now? I see myself as having had a very successful acting career, a continuing singing career, lots of albums..

Vasundhara adds, as we come to the close of our tete-a tete. A very relaxed and talented actress, Vasundhara is.



Vasundhara: A beautiful mix of actress and singer

(Source : www.apunkachoice.com)

Vasundhara Das couldnt have asked for more from life.

For a girl who actually wanted to pursue a career in singing, getting a break opposite Kamal Hassan (in Hey Ram) and following it with another finely etched role in Mira Nair's A Monsoon Wedding, life couldn't have taken more pleasant a turn.

Unlike the other newcomers of her age, Vasundhara did not take the obvious route to Bollywood. Of course, working with the likes of Kamal Hassan and Mira Nair has honed her acting skills and groomed her into a mature actress, but Vasundhara is more inclined toward shaping her singing career.

Lest you mistake her as a tyro with mike Vasundhara has already lent her voice to many Tamil and Hindi songs and has to her credit last year's Filmfare award for the best playback singer for her song 'Shakalaka Baby'.

Presently she is all gung-ho about her music album 'Mera Nishaan' released under Magnasound. The eight-song album has music by the Canada-based music composer Pravin Mani, who is quite deft in blending the western style of instrumentation with an eastern sense of melody. He also seems to have penchant for Spanish music.

Vasundhara's command at the vocal chords is quite apparent in the song 'Meri Jaan' which is one of the highlights of the album. Its video, sleekly shot around the idyllic locations in Agra and at Taj Mahal is doing frequent rounds on the music channels.

At a tender age of 23, Vasundhara has already set the ball rolling to realize her ambitions. Describing her style as the one about "experimentation and breaking all boundaries" her words certainly doesn't come from a big mouth. She deserves every bit of praise she has got so far.



"Training would have made things far easier"

(Source : www.hindustantimes.com)

Vasundhara Das, the lead actress of Mira Nair's Monsoon Wedding, could easily pass off as a teenager all worked up over the latest movie in town. But once Vasundhara Das gets cracking, you realize she has the maturity of a veteran and possesses a degree of versatility that allows her to have her finger in every pie


You have an unusual surname for a Bangalorean. Where are you from?
I am a Tamilian but more of a Kannada-speaking Bangalorean. Since my surname is Das people tend to confuse me with a North Indian. We are a small community of people from South India and hence the rare surname.

You are primarily a trained singer. How did you decide to become an actress then?
I am very focused on my music having trained in Hindustani Classical music since my grandmother is from Delhi and was associated with the Gandharva Mahavidyalaya. I am still learning and do my riyaaz for whatever time I can manage every day.
I was receiving offers for a long time and when I did Hey Ram, it wasn't with the intention of getting into acting seriously. I just wanted to give it a shot. And it worked (laughs). I enjoy acting too.

How seriously do you pursue your training?
I am pretty serious and I don't think one can master Hindustani Classical ever in life. There's so much to learn really.

Your songs in the film Aks have become big hits.
Yes, I am very happy about it. They were both difficult songs to sing, not the usual songs. There again, Anuji (Mailk) gave me total freedom to interpret the song the way I wanted to. A.R. Rehman too wants me to improvise at the time of rehearsing. Actually I am very fortunate to have sung for the best so far.

And acting?
There again I am learning and with each film I have grown. (Smiles). Actually all the four films I have done so far gave me scope to perform and added to my individual development as an actor.

How did you bag Monsoon Wedding?
I happened to know somebody who told me that Mira was looking for a girl to play an important character for her next film. I went for the audition and was chosen from a long list of girls.

Were you able to relate to Aditi?
No not at all. Aditi is not me. I am not confused at all like her. I make my choices very clear in life. Aditi is also putting herself at risk, which I would never want to get into.
And I can't say that I can bring in my experience from life to be able to portray Aditi well but Mr. Naseeruddin Shah's two-week workshop before the shoot commenced helped us a great deal, especially me since I am not a trained actor.
The workshop was Mira's idea. It was meant to familiarize all of us with each other, our characters, even the place where we shot.

Do you think training would have made you a better actress?
Definitely. As I said I don't have enough experience of life to be able to fall back on life's experiences, training would have made things far easier.

You have worked with Kamalahasan before and now Mira. What was the difference between the two?
When I did Hey Ram, I was very young. I didn't know a thing about camera angles etc. Kamal was like a school he would tell me five different ways to do a scene. With Mira I enjoyed more freedom. She would explain the scene in detail and expect me to just let myself go. Also with the workshop we all grew with the characters. That was the main difference.

What are planning next?
I don't plan anything in advance. I just sway with the tide. I am shooting for my Tamil film in January 2002. Ther are some very exciting offers from Mumbailet's see. I can't tell you much for nothing is formalized as yet.

These must be acting offers. Are you also hoping to sing?
I do suggest that I'd love to do that. But I can't insist on it as a precondition. I am equally excited about this acting offer that will get officially announced soon. I can be a singing actress like the way it used to be in the past. I am singing a lot for Aadesh Srivastava and I'm sure others will follow soon.