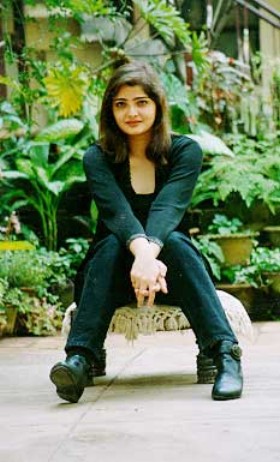 1) Interview : www.heyramthemovie.com

2) Vasundhara Das : The Entertainer : www.sify.com

3) Interview : www.tamilstar.com

4) CavinKare launches Singlez
www.indiaserver.com/businessline

5) Interview : www.3to6.com

6) Interview : www.topplanet.com

7) Interview : www.zeenext.com





" I do a lot of western music also. I sing Pop, Jazz and looking for a career in singing. I Was screen tested with Mani Ratnam and it gave me a lot of confidence.When I got a break in "Hey!Ram" - I couldn't have asked for more. It has an amazing Cast and is like going to an acting school.There are so many legends in the film. I had never acted in my life before and neither did I have the confidence to do that. I am not too much of a movie buff. Kamal Haasan is the best actor India has. No one is as versatile as he is. No one can Carry off any role as good as him. Which was why I was initially scared to be around him. I was acting with a huge legend. He is amazing and very very patient.

As a Director also he is in top. I wouldn't have been able to do what I did without him around. After this film is released, people will know about him as a top Director. He is a catalyst to everyone on the sets. Nothing happens without his involvement in all aspects of "Hey!Ram". He has an amazing amount of energy. There is a lot of adrenaline flowing with him around. His mind is always on the move. He is a perfectionist. He is a guy who first analyses a person and then gets the work he wants out of them. As a Producer, he is so good in planning, time management and execution. Everything was efficient and clock work precision. I could never figure out the different faces of Kamal Haasan - as a Director, as an actor and as a person.

Art director Sabu Cyril has done some amazing work in this film. He has taken care of every detail of the atmosphere in the film. This film doesn't need any commercial gimmicks to make it a hit. It is a film complete by itself. It is good cinema."

On her intimate and very steamy scenes with Kamal Haasan -
" Initially it was a bit awkward but then I got used to it. I was made very comfortable by having very less crew around. And ofcourse I had my hairdresser around to jump and cover me with a towel after a shot was canned. My parents were outside the sets and my Dad was smoking away his pipe very comfortably. It had to be done so it was done. I didn't need my Parents' support during the scene, but nevertheless, they were there. "



www.heyramthemovie.com


VASUNDHARA DAS - THE ENTERTAINER

(Source : www.sify.com)

Success story of the "Shakalaka babe ..." !!

You saw her self fair, fragile and fearful - holding a tanpura and singing a soothing classical melody against a compelling image and piercing glances of Kamal Hassan. That was in the promos of "Hay! Ram" and almost thought this was yet another new heroine launched by a renowned hero/ producer who is trying her luck in the ocean of filmdom. Well, yes, you are right, but Vasundhara Das is more than a glam doll trying to dabble in acting, for she is a proficient classical singer with decades of training behind her back.

Lets get to know her, and her evolution from a singer to an actress, or shall we say "entertainer" in her own words. What ever you say, Vasundhara is here to stay!!

"Shakalaka babe Shakalaka babe, love liya tochaleda...nono, noo no, nono no noo.."

We all shuck our heads and limbs to this amazing song of Vasundhara pictured on the sensuous Sushmita Sen!! "La la lala..."
Q. We heard that you would like to be addressed as an entertainer?

Vasu- Yes. I have gone through years of training in Hindustani classical music apart from giving numerous performances in Bangalore, my hometown. Singing, acting and performing on stage are part of the label called entertainment. I refuse to be categorized under one slot. Singing was there, and acting came through!!

Q. Rehman gave you that break of your life. Right?

Vasu: Yes. I landed in Chennai only to get into a contract with Manga Sound and met my idol, AR Rahman. And there was no looking back in my singing career, while film offers came in though I never took them serious, for I am from a non filmy background. But when surprisingly the doyen Kamal Hassan offered me the role in I knew I was going give a try! And I passed the audition test.


Q. What was"Hay! Ram" experience like?

Vasu: "Hay! Ram" opened a whole new world to me where I could discover my own skills under the tutelage of the master actor, Kamal Hassan. The only problem was that if "Hay! Ram" was released first,I would be known as an actress, but luckily my song Shakalaka babe was released first!! Well my first passion is singing ofcourse!

Q. Ohm.. And Ananda Vikatan prominently carried the news that Sahakalaka babe is Hay! Rams heroine!! Now with your identity firmly established down South what next?

Vasu: I did make an entre into the national scenario with my maiden album "Meri Jaan", which is like my dream come true. Though it was commercially not a great success, it did get critical appreciation. And its just different stylistically.

Q. But commercial stints did happen to you.

Vasu: Well, I wanted to try what it is like being a commercial actress. So "Citizen" happened with Ajit being the hero. It saps your energy with those many songs and dance sequences around the trees!!

On the other hand "Monsoon Wedding" my forthcoming film directed by Meera Nair, is a very realistic movie. I got inkling to the way sensitive actors think while shooting for the film with Naseeruddin Shaha and Shefali Chayya.

Q. We guess now you are perfecting yourself after going through both commercial and offbeat acting apart from singing. Now "Ravanaprabhu" with yet another veteran Mohan lal, and more to follow you are surely making a gradual evolution as an `entertainer!

Vasu: (Smiles). Acting apart, after the great feed back from the pep up number Shakalaka, a series of melodious songs followed which had to be sung with great control. And I did explore my soul and voice in Rabba Rabba in Aks.

Yes, we all enjoyed her newest number Rabba Rabba Now acting, singing, movies and singing assignments lines up, Vasundhara has been very busy last one year. With the newfound success for her heard work Vasundhara has a long way to go. Above all this light-eyed damsel really relishes in singing live on stage.

Hail O Shakalaka Babe....err or Rabba Rabba girl!!


CavinKare launches Singlez

www.indiaserver.com/businessline

BANGALORE, April 10, 2000

CAVINKARE, the Chennai based personal care products major, has announced the launch of India's first single-use perfume, Singlez.

Launched under the aegis of the company's fragrance brand Spinz, Singlez is targeted at the Indian middle class consumer and is expected to significantly expand the perfume market in the country.

Speaking at the launch, Mr. C.K. Ranganathan, Managing Director, CavinKare Limited said: ``The perfume market in the country is currently worth around Rs. 70 crores, with penetration levels of less than one per cent. This is primarily because of the prohibitive pricing that exists in this category today.''

Singlez will be available in attractive use and throw packs priced at Rs. 1.50. The new product will initially be available in two exotic fragrances _ Fire and Ice.

The new brand was launched by celebrity Vasundhara, who also currently features in the television commercial for the product.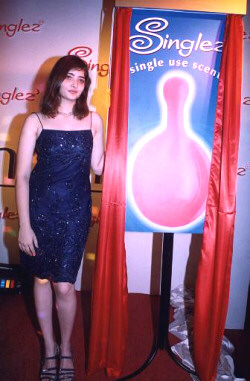 (www.3to6.com)

Vasundhara looks radically different from Maithili in 'Hai Ram' and she seems completely opposite in character. She is young, brimming with enthusiasm and fiercely ambitious. Very cool, collected and in control of her career, she is thrilled with the upcoming release of 'Mera Nishaan'. Naturally! This was Plan A after all

What kind of album is "Mera Nishaan"?

It's got a mix of styles. Sukhwinder Singh has composed two songs. The song 'Meri Jaan' is composed by Piyush Mishra. Piyush has done most of the lyrics on the album as well. The rest of the songs are combined compositions by Pravin Mahendru, Piyush and me. This is something that I've wanted to do for as long as I can remember. It's falling into place. I'm working with people that I want to work with. It turned out much better than I ever expected.

Is there any specific kind of music that you enjoy singing?

I really enjoy singing Spanish music. But it's not really about the kind of music I enjoy singing as much as it is the amount I enjoy singing itself. For me it's a challenge to try different things. In different I don't mean new or anything, but different styles, a whole range of things.

How did you get into music?

I began studying classical music when I was ten. I have a family that was very into music. They were just listeners. They just decided that we needed somebody in the family. So they sort of threw me into a music class. I enjoyed it after a while. I don't really know when it switched from being a forced attempt to being an enjoyable attempt. I sang for my college. I formed two bands. There were concerts held in the interest of music in Bangalore every month. That was the main learning ground for me and for a lot of people my age. A bunch of us used to go and play, half the time make fools of ourselves. You know, it was a learning process. I think we got better at the end of it. I'm really glad that t his happened for us in Bangalore at the time it did because it really made me grow as a musician. So for one year, we did this.

Did you ever plan to do anything else?

Oh yeah, all the time. I had these plans every year, which used to change. I wanted to be an archaeologist one year, then a genetic engineer at another point. Then it turned towards statistics at one point. I never believed that it ( music) could succeed for me. I knew that I would sing all my life. I never really thought that I would make it a profession. It was a dream and if it did come true, it would make me immensely happy.

When did you decide that it was something that you could make a career?

The guys who were organizing these concerts ( in Banagalore) just ran out of funds. I decided that I wanted it to go on and I realized that I had a lot of conviction in seeing music through like this. I went out and got some funds and got together with some friends who could help me out. That's when I decided that unless I was serious about something, I wouldn't go all the way with it.

So what did you decide to do?

I decided to meet Rehman. I went to Madras on a whim and I sort of hung around for two days not knowing what to do. Then I met Madhav Das who's with Magnasound. He put me in touch with Pravin Mahendru who's partly composed the songs on my album. He was an old college friend of Rehman's. He and I just recorded some stuff together just off the cuff. We made a demo. We went and met Rehman. We played him the songs that we had done together. He didn't say a thing. I just came away not knowing whether he liked my voice, liked my style. The next thing I knew is that he had recommended me to act.

What was your reaction to that detour?

I was like, "ok. I'll just give it a shot." That screen test ( with Mani Ratnam) was very rigorous. It helped me out. I didn't do that film 'cos I didn't feel comfortable at all. The cameraman from that screen test recommended me to someone and Kamal's office gave me a call. I went for a screen test. It was a one-hour test. At the end of it, I think I knew I had the role. They were like very sure and were going to start shooting now." I was like," what the hell am I going to do now?" ( laughs)


Did you enjoy it once it happened?

I did. It was like a graph moving upward in terms of comfort and enjoyment. In the beginning, it was completely alien and then later, I really settled in. Kamal was great. He was really good in terms of making me not inhibited about things. He's a very good director. I have no idea how he got all that out of me.

Post 'Hai Ram', there's Mira Nair's 'Monsoon Weddings' and the Tamil film " Citizen". Are you okay with the acting detour?

One of the reasons why it's okay with me is that it gives a lift to my music career, I mean to be completely honest. The other reason is that it challenges me and I'm always up to a challenge. I did take up the Mira Nair film because it was a completely different character to play- a young girl, modern day, completely free of society, doing her own thing. It seemed a challenge to play somebody else, completely different from Maithili.

And then of course, there was the sensational "Shakalaka baby".

That happened after the shoot of 'Hai Ram'. In fact Rehman called me back for a song. I went in and I recorded the song and I remember the first thing I did when I came out was I called my mom and said, this song is either going to fail miserably or it's going to be the hugest hit. Suddenly there were endless calls at home for me to come and perform Shakalaka Baby. Until then, nobody knew who Kamal Hassan's heroine was in 'Hai Ram'. Someone came to interview me about Shakalaka Baby. I thought they came to interview me about Hai Ram. Before the interview started, my mom asked him very casually, "Did Kamal's office send you" and he was like, "Kamal's office?" and she said, "don't you know she's the heroine of 'Hai Ram'. He was like, "Oh my God, jackpot!!"

Would you like to compose your own music one day?

I definitely would like to be in on the composition. I'm not sure I would like to do it on my own. I don't think I'm that qualified as yet. But yes, in the long run.

Are you doing any more playback work?

I've just song in the film, "Aks". It's "The Hell Song", with KK. There's a tri-lingual film, a Madras production called "Little John". I've sung the song, "Laila". Other than that, the rest of the songs are in Tamil. I've done about 16 songs in Tamil and 2 in Telugu


An Interview with Vasundhara Das
(www.topplanet.com)

Meet Vasundhara Das, the girl whom Kamal Haasan had one look at and signed, to play the lead in his magnum opus, Hey! Ram. So impressed was AR Rahman with her looks and voice that he persuaded Mani Ratnam to cast her in his film Alay Payudhe.Not just that, he even made her croon the famous number shak-a-laka-baby for Shankars Mudhalvan. A candid chat with the new sensation.


How did it feel, acting in Kamal Haasans Hey! Ram and crooning for AR Rahman in Mudhalvan?
Good. Finally life is looking up for me. I have waited enough in life for opportunities to sing for some good composers. And now, things have begun to move, first with the offer to sing the Shaka laka baby track composed by AR Rahman, whom the world considers a genius. And then surprisingly being offered to act in a Tamil film Hey! Ram, directed by Kamal Haasan. I play the lead in the film as Kamals wife.

What was your first priority, acting or singing?
Singing, of course. No doubt. I have had a dream for as long as I can remember and this dream was to sing. When I was not in class at school or college I was invariably at singing practise. Thank God, I grew up in a cosmopolitan place like Bangalore, for I eventually got a multi-cultural exposure. Bangalore being a slower-paced city, has less scope for one who wants to get into the entertainment big time.

How did you bag the plum role in Kamal Haasans Hey! Ram?
I have a friend in Chennai, music composer Pravin Mani. I had worked with him on a project. His mother Indu Mani heard Kamal Haasan was looking for a new face to play his young wife in Hey! Ram. She let them know about me and when theyd seen my photographs, they called me over for a meeting and screen test and I was selected.

But is it true that Kamal Haasan had to request you to do the role?
He didnt actually request me, but his office definitely persuaded me to come over from Bangalore to Chennai to meet him. They even got me my flight tickets for the screen test.

How was it working in Hey! Ram?
Ecstasy is the only word to describe it. I consider myself lucky to be acting with and under the direction of arguably, the best actor in India. Also it provided me the opportunity to work with seasoned artistes like Hema Malini, Girish Karnad, Mohan Gokhale, Vikram Gokhale and Saurabh Shukla. I got an insight into a completely new world and a completely new proffession opened its doors for me.

Whats your role in Hey! Ram like?
I play an Iyengar girl an innocent, spontaneous yet strong person who comes to marry a very complicated man. The parts of the film in which I feature, show how we make compromises for each other, and come to influence the other in so many myriad ways.

Did anyone give you a raw deal, since you were a rank newcomer and others were seasoned pros?
No. In fact every one was so co-operative, even indulgent, that I could not quite believe my luck. Kamal Haasan himself was very understanding. He knew very well I wasnt quite as much of an actress as a singer, so he never once lost his temper, even when I knew Id goofed up badly. Hema Malini treated me like her own daughter. She would discuss her daughter Esha with me for hours. She would detail to me how filmdom works, and gave me tips on how to cope with it. Its hardly necessary for an artiste of her calibre to discuss her daughter with me. So that gives you a fair idea of how well I was treated.

Is it true you had to do revealing scenes?
I dont understand what you mean by revealing scenes. But yes, I have done a sex scene in Hey! Ram with Kamal Haasan. Hed already told me about it at the start. He told me it was very necessary for the story, and wasnt meant to arouse or titilate the audience. It was an integral part of the script. I agreed to it because of the trust I had in Kamal and he never betrayed my trust at any point.

Did it involve nudity?
It was a sex scene, which does involve some nudity, but in a dignified way. It will definitely not look cheap when seen by the audience.

Did Mani Ratnam want you to play the heroine in his venture Alay Payudhe?
Yes, Mani was looking for a new girl to play the lead in Alay Payudhe and AR Rahman told him about me. And so he called me up in Bangalore and asked me to come over. We met and had a screen test, but then, at that point, I was very much into singing, and so acting wasnt so seriously on my mind. Mani wanted me to totally concentrate on Alay Payudhe, which I could not promise. So he had to start his search for a new girl all over again, and finally zeroed in Shalini.

Did Khalid Mohammed want you to play the lead in his film Fizaa opposite Hrithik Roshan?
Who told you this? Its totally baseless. I agree I know Khalid well but he definitely did not offer me Fizaa. I was introduced to him by dance director Farah Khan, whos a good friend. Khalid has already signed Neha and Karisma Kapoor for Fizaa. I guess because people saw me meeting him at a time when he was casting for Fizaa, they probably thought hed signed me.

How did singing for AR Rahman happen?
I came to Chennai with the intention of doing some quality singing. My search led me to Pravin Mani, a Canada based music producer, as he calls himself. His main interest was that I sing in Spanish Fla, Emco Latino and Gypsy styles of Spanish music. I have been learning Spanish for a year now, and am still not fluent at speaking it but I sure can sing it. Pravin and I cut a demo, and saw that the music was flowing. Its he who introduced me to AR Rahman.
After Id finished shooting in Hey! Ram, Rahman called me in to sing Shakala Baby for the movie Mudhavan and its Telugu version Okke Okkudu. The song marks a guest appearnace by Sushmita Sen. I have also sung for Rhythm, a film directed by Vasanth and also a number in Rajeev Menons Kandu Konden.

Are you planning to release an album too.
Yes, I have been signed by Magnasound for an album. Pravin and I are working on it, and it should be completed shortly.

Why did you reject the offer by producer Vashu Bhagnani to play the lead opposite Abhishek Bachchan in Tera Jadoo Chal Gaya.
I did not find the script interesting.

But you lost out on a role opposite Amitabh Bachchans son. Dont you regret it?
Not at all. It was a very sensible decision, considering I wasnt it would make a good film.

What if it becomes a hit?
Id rather not look back. See, I dont mind doing a good film even if I know it wouldnt click at the box-office. But I definitely cant do a bad film just because it has a star son in it. Dont get me wrong, I dont mean to degrade Vashu Bhagnani in any way. Dont mistake me for that at all. I am really happy, deep down in my heart that Vashu at least thought of me, even when he wasnt sure as to how my first film in going to be received by the audience. I am really grateful to him.

Have you heard of the casting couch?
Yes, I have heard of it but I swear I have never faced such a situation. But I am not a person who will tolerate nonsence. Acting is just an extention of my dreams in singing. I am not so desperate to make it in the film world that I have to sleep with some one. If at all any one rubs me the wrong way I know how to handle them.

So whats next? Have you signed any other film?
Ive nothing concrete, as yet, to talk about. But yes, my album with Magnasound is in the offing and I hope it clicks in a big way.

And Im eagerly looking forward to working with directors like Aditya Chopra, Karan Johar and Shyam Benegal. I just love their brand of films.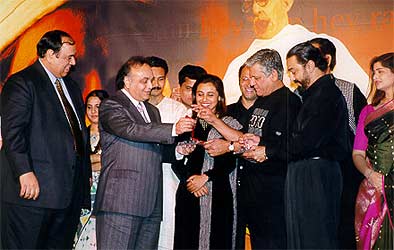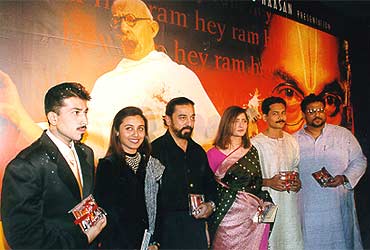 It'll be more movies for me: Vasundara

(Source : www.zeenext.com)

Now it`s more movies, more music for me: Vasundara Das


Q: How did you feel while making Hey Ram?
A: It was quite an amazing experience. Kamal Haasan is a great actor and he made me feel so comfortable. This doesn`t mean he`s not an amazing director. Also in terms of the role, it was a very complex and a challenging role, and to make a newcomer to do this role was a challenge in itself, and he did a wonderful job of it.

Q: What are your hobbies?
A: I like moving around, travelling, camping, participating in nature sports. I love outdoor sports like white whitewater rafting. Also I love music. Music is a part of my life and I can`t imagine my life without music.

Q: Given a choice would you go in for acting or music?
A: Music, because I never really thought about acting till the time that I actually started acting in Hey Ram. For me music has always been the focus of my life.

Q: From now, where?
A: Now it`s more movies, more music. And now that Meri Jaan is out, it`s like my portfolio in the music world. I am also starring in Aks and a tri-lingual film called Little John. I have done about 15 Tamil films, 3 Telugu films and from now it`s going to be movies and music at par with each other.

Q: A lot of people who have heard your voice say it`s different yet similar to Shubha Mudgal`s. What do you -have to say to that?
A: I can`t ever dream to compare myself to Shubha Mudgal. I don`t have such a high pitched voice and it`s got a different texture.

Q: Can you tell us about your experience while making your music album?
A: I had a great time while shooting this video, mainly because in my video team the eldest was 28. The director was was 25 and everyone was in the age group of 23-25. For a lot of people it was the first time - like for the choreographer, the director etc. It was a good learning experience.

Q: Did you face any problems while shooting this video?
A: On day one itself we had some technical problems and we had to finish the shoot in four days. This was a difficult task, but we had to do it, as otherwise, we would have run into money problems, but we still managed to do it, and it was a fantastic video.

Q: What kind of movies are you interested in now?
A: I`m open to all kind of movies. I like to be called a multi-lingual person, as I can speak English, Tamil, Telugu, Spanish, Kannada and for me language is not a problem and neither a barrier.