1. www.music.indya.com

2. www.timesofindia.com

3. www.apunkachoice.com

4. http://music.vindia.com

5. www.hindisong.com

6. www.rediff.com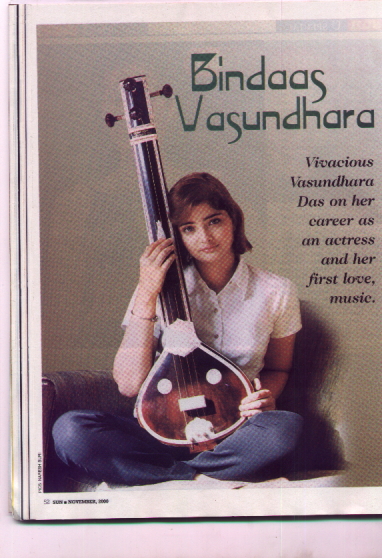 Vasundhara Das
(Source : www.music.indya.com)

A bright-eyed youngster who wants to use her superior vocals to further her career. A dreamlike offer which leads her to don the greasepaint and share screen space with one of the demi gods of Indian cinema. Vasundhara Das has a nice little fairytale etched out for her life. From the gleam in her eye as a teenager, to her film offers, Vasundhara has achieved it all. And she is thirsting for more.

Vasundhara's vocals have been blessed by the gods themselves. She had made up her mind to pursue singing as a career when in school, and invested serious time and effort on it. She trained under Pandit Parameshwara Hegde of Keherwana Gharana, and carried her interest in singing to college, where she was a permanent and reassuring fixture on stage, and in choirs. She won accolades by the hundreds, and this assured a firm foundation for the future. She also learnt to sing in other languages like Spanish.

Vasundhara's first celluloid break came with the Tamil film Mudhalvan, under the musical baton of A R Rahman. She voiced sensuous siren Sushmita Sen for Shakalaka baby, and the song was a resounding success. Meanwhile, Vasundhara's life was branching out to include another facet - acting. She was initially approached for Mani Rathnam's Alaipayuthey, but the role eventually went to Shalini.

But the story did not end there. Kamal Haasan wanted a fresh face to play his second wife in his mammoth labour of love Hey Ram. The role catapulted her to the higher eclelons of cinema. Though the film sank without a trace, as the sprightly Mythili, Vasundhara had made a dent. Meanwhile, she was also making inroads into the music circuit, and released her first private album, Meri Jaan. The album was an eclectic blend of myriad elements and worked very well for her.

Celluloid acclaim was soon to follow. Vasundhara seemed now to earn her place as a Rahman favourite, and sang in Rhythm. But he had more ambitious things in store for her. Lagaan was a monument in the Hindi music industry, and Vasundhara was given an opportunity to flex her vocals, this time in English, for British leading lady Rachel Shelley. This was the biggest turning point of her career.

Vasundhara now seems to have carved a definite path to success, and is being noticed by more composers. Anu Malik has entrusted her with two challenging tracks in Aks, where she matches voices with the likes of KK. She donned the greasepaint once again for Citizen, and romanced heartthrob Ajith. Life is a two-ring circus for this dynamic young performer, and she is poised to scale greater and greater heights!
A star before the camera and behind the mike
(Source : www.timesofindia.com)
Staff Reporter

BANGALORE: As a precocious six-year old and recalcitrant music student, she would often run away from her music guru at that time -- her grandmother -- to miss her Hindustani music lessons.

It was only after much coaxing, that she would reluctantly return and complete her riyaz. Had she got her way then, Vasundhara Das, singer, actress and music video star would have little to look back on in terms of her music or movie career.

From the young girl who stood before thousands of music lovers at college rock shows and captured their hearts with her soulful voice to the confident singer and actress who can hold her own both in front of the camera and the mike, city-girl Vasundhara Das has more reason to celebrate her success now, than before.

The reason -- Mera Nishaan her newly launched music album.

Remind her that something she has always dreamed of for a long time, has now turned into reality and the smile that tugs at the corners of her mouth metamorphoses into an enormous grin. For the girl who admits that music is her first love and who confesses that she became an actress by default, her debut album has made her an even greater talent to reckon with and true to its name, she is all set to leave a mark in the music cosmos.

Though she has several films and film offers tucked under her belt and more offers are pouring in from music directors for movie playback, at the moment, Vasundhara seems more excited about her album than her promising career in filmdom.

Bangalore Times met her as she was winging from Chennai to Mumbai with a brief stopover in the city and she gave us an insight into her passion for experimenting, innovating and breaking all boundaries in music.

Her album,Mera Nishaan, launched by Magnasound is already topping the music charts with the catchy single Meri Jaan being played on all the major music channels.

"I actually wanted to pursue a career in singing, right from the time I can remember. Movies actually happened by chance, but I'm glad they happened. I have enjoyed myself and learn't a lot in the film world," says the singer and actress, adding, "The album is the outcome of a lot of hard work and the encouragement of people who believed in me. The music for the album has been composed by Pravin Mani. The video has been shot in Agra at the Taj Mahal."

Though she is quite familiar with the camera now, after Kamal Hasan's Hey Ram and Mira Nair's A Monsoon Wedding, Vasundhara says that shooting for a music video is altogether a different experience from acting. "It's fun and you feel so much more alive.'

So will it be music and music videos or movies that Vasundhara will eventually choose in the long run? "At this stage in my career, I want to take things easy and concentrate on working well rather than taking up too many things and making a mess of them. I will do both movies and music, but I will make sure that I give both my best."



Vasundhara: Accidental actress on a musical high

16th Feb 2001 22.30 IST
By ApunKaChoice Bureau

She reminds you of all the sea-metaphors you can conjure. Delicate as a sea-fern with limpid green eyes that draw you to their depths, this water nymph even wants to lure us with her singing like Sirens at sea.

And why not, after all it's no hardship for her as music is her first love. And the lady even won a popular award for her mega-hit song 'Shakalaka Baby' in a Tamil film last year.

Folks, we are talking about Vasundhara Das. If the name doesn't ring a bell, lets jog your memory. Remember that innocent chit of a girl who played Kamal Haasan's screen wife Maithili, (the second one) in 'Hey Ram' ?

That's Das, but now in her new avatar as a singer. While we may take time to get used to her singing sensation persona, She is quick to rephrase the actress tag as one of '' an accidental actress.''

Music is what drew her to the Industry in the first place and though it sounds hackneyed, movies just happened on the way.

In fact, in the first leg of her sojourn, the first milestone she crossed was one that saw her as a playback singer.

''I met Mr. A.R. Rehman with a demo tape, hoping that he'd give me a chance to sing for him. He did sign me for Shankar's 'Mudalvan' (where I sang Shakalaka Baby, which also was the biggest hit in 1999 and won me a popular award).

''He also recommended me to Kamalji. I did like Maithili (the character she plays in 'Hey Ram') and anyways Kamalji is such a phenomenon, so I gave it a shot. I wasn't really angling for a film career, I'm an accidental actress. ''

Obviously delighted at the release of her album, Vasundhara confided to a popular daily recently - '' I'm finally doing what I enjoy most - music. ''

Her Indipop debut 'Meri Jaan' (under the Magnasound label) had a January release. The eight-track album has music by Piyush Mishra, Pravin Mani and Sukhvinder Singh.

''This album showcases my kind of music, '' says Vasundhara Das. 'Meri Jaan' has a nice mix. There's a dash of Arabic in 'Mera Nishan', some peppy Latin groove in 'Bolare', the up-tempo 'Aao Yaar' and a soft ballad 'Ghar Mera'. I have tried a bit of Bhangra too in 'Sohni' (which is about the Sohni-Mahiwal romance). ''

Her music video is directed by Shaad Ali and was shot in Agra in front of the Taj.

Vasundhara may appear like a Valentine kiss of sweetmeats but watch out that candy floss softness is a bluff. She's no air head.

Believe it or not, she has a Bachelor's degree in Statistics and Mathematics !

The lady has also trained in Hindustani classical music at the Gandharva Mahavidyalaya.

'' I've been into music since I was just a ten-year-old. I trained under Pandit Parameshwar Hedge of the Keherwa Gharana and was a regular at Bangalore concerts and used to jam at the Freedom Jam (something like the Woodstock fest).

Vasundhara is also a bit of a linguist and can leave you quite tongue-tied with her Spanish. And Yes, she can do the Flamenco ! She strums her guitar when the mood descends and summons her favorite tunes. As for performing live on stage She goes into ecstasies at the mere mention.

'' Last year I did a live show in Dubai where I saw the Arabs jiving in gay abandon to 'Shakalaka'. That's when I was on a high. ''

For those of you who are worried that the Lady has quit acting to pursue her first love - music, Don't be. She has lined up quite a hamper of films for her fans.

Her acting career hasn't been put on hold. Vasundhara's upcoming movies include a delectable Mira Nair venture - 'Monsoon Wedding' shot extensively in Delhi.

In the film she plays a sheltered Punjabi girl called Aditi, about to get married. '' It is one movie worth waiting for.

She's also doing 'Sangeeth Pushpak' Srinivasan Rao's trilingual, Little John, Citizen in Tamil with Ajith, an untitled flick with R. Madhavan and a film with Abhishek Bachchan.

She lionizes Shah Rukh Khan and it would be her dream come true to do a film with him.

'' I'd like to be like him, juggling two careers successfully and being equally passionate about both. ''

Till she can muster some of that Khan energy she says she'll have to rely on the unconditional support of her parents.

Probe further, and she lets on that they are 'normal professionals'. '' Dad is a CEO of an MNC in Bangalore and Mom's a scientist with the Indian Institute of Science.''

(Source : www.apunkachoice.com)





Vasundhara Das

(Source : http://music.vindia.com/)

Born with a natural leaning towards the performing arts, she was lucky to have parents who recognised these talents and fostered them. As a result, she started training under her grandmother at the tender age of ten. She continued with various gurus, until she finally stabilised her training under Pt. Parameshwar Hegde of the Keherwa Gharana. Believing music to be a life long learning process, she continues training under him, even today.
The urge to bring music into the lives of people around her led her to joining the management of 'Freedom Jam', a monthly concert organised to promote and showcase music talent in Bangalore. Working with this group, and also performing at their monthly gatherings, Vasundhara soon became popular in the Bangalore music circle. Here, she was also exposed to a variety of musical styles, from Jazz and Blues to Rock and Heavy Metal.

At this juncture, she started meeting visiting musicians from all over the world. Two of them happened to be from Colombia. Her interaction with them influenced her into learning Latin American and Spanish music, and finally the Spanish language itself. Having sensed the possibilities offered by music from other cultures, she began exploring Arabic music, and found many similarities between Arabic, Flamenco and Indian music.

Somewhere along this journey, she met A.R. Rahman through her music composer Pravin Mani, and started singing in Tamil films. She has sung for over 17 Tamil films and 3 Telugu movies. Her number "Shakalaka Baby" brought her instant fame and recognition. She had the entire South dancing to her tracks. "Shakalaka Baby" went on to win her the Best Playback Singer Award at the Film Fare Awards in 1999.

While moving through the tinsel towns of the South, her reputation as a professional grew. And as was expected, the industry also started noticing her beautiful features, especially her deep grey eyes. She got in touch with Kamaal Hassan, who was then deciding on the cast for his forthcoming movie. She then screen tested for, and was instantly selected for the role of 'Maithili' in 'Hey Ram'. As is the norm with her, she excelled in her role and won accolades and recognition through out the country.

After the release of 'Hey Ram' she went back to her first love... singing. She recorded her debut album 'Meri Jaan' and signed on to Magnasound. The songs on her album 'Meri Jaan' reflect on her eclectic preferences as well as the ease with which she slips from one culture into another, without losing any of the inherent beauty. On the album, one can find diverse influences, from the Arabic melody in "Mera Nishaan" to the peppy Latin groove on "Bolare." Even the pace of the numbers swings from soft ballads "Ghar Mera" to the uptempo "Aao Yaar." This rich diversity has been made possible because there are a number of people who have contributed towards this album. The composers include Piyush Misra, Pravin Mani and Sukhwinder Singh. The lyrics have been written by Piyush Misra and Sukhwinder Singh.

The title song "Meri Jaan" is about the divine quality of love. It describes how ever bit of the singer's being is filled with it and is enriched by it. It has a very strong Sufi influence. The video has been shot by Shaad Ali, who has learnt the art of film making from Mani Ratnam. The video has the beautiful Taj Mahal as the backdrop.

In between all this, she also managed to shoot for Mira Nair's next movie called 'Monsoon Wedding', which is due for release in 2001.


Everything has to have a bit of me.

(Source : www.hindisong.com)

She has it all oomph, talent, the best songs, great films with good directors. Here, a low-down on the South Indian light-eyed lass, singer-actress Vasundhara Das.



Vasundhara Das is a typical Bangalorean girl from a conservative Brahmin family. She began taking singing lessons from her grandmother from the age of ten. Later, she continued under the Pandit from Kaharwa Gharana, Parameshwar Hegde (and still does).



During college, she was a member of an all-girl band which gave many highly appreciated performances. The band also performed at Freedom Jam gatherings where all artistes played for free and got to meet other artistes. As a member of two bands, Jam Tree and River, she got the opportunity to be a part of fusion music. Vasundhara was inspired by many genres of music and artistes ranging from Joan Baez to Trilok Gurtu. She was also influenced by Spanish music. Her eclectic interests are obvious in her debut album Meri Jaan.


It was when she was in Chennai scouting for chances to sing playback in films that she got the offer to star opposite Kamal Hassan in Hey Ram. How was it acting with Kamal? She says it was a great learning experience and rates him among Indias top actor directors.



Her career as an actress is going great guns since she has bagged major roles in Citizen opposite Ajith Kumar and Acham Thavir opposite Madhavan. This lass is open to doing good films in any language.



And her career as a singer? Meri Jaan launched her career in Indipop and was noticed for its different music in each song. The album has influences of Arabic, Latin and Spanish sounds in its songs.



Shes made a mark in playback singing too. Rahman gave her the opportunity to sing Shakalaka Baby in Mudhalvan, a Tamil film. The song went on to become a super hit and Das won a Filmfare award for it in 1999. Shes sung for Lagaan and Aks. Besides, shes singing for herself in Citizen and Acham Thavir too.



And shes got a role in Mira Nairs Hollywood film Monsoon Wedding, a story about a Punjabi family. Naseeruddin Shah plays her father while Shefali Chayya acts as her sister in the film. Vasundhara plays a Punjabi girl and for a South Indian Iyer girl, this is quite a challenge.



What does she see herself as a singer or actress? Both, though music occupies a very special place in her heart. Everything has to have a bit of me, she sums up.

The event got a jump-start with the Bhangra beat giving a blast off. 'Balle Balle Boys', yet another Punjabi pop group emerging on the Indipop scene, entertained the audience with some foot tapping numbers. But the entry of the new pop girl in town, sent the boisterous crowd into raptures. Vasundhara Das, the bewitching Bangalore girl enthralled the audience with her husky voice, singing numbers from her newly released album, 'Meri Jaan'. But when she sang 'Shaka Laka Baby' number from her hit Tamil film, the crowd erupted and screamed for more.

(Source : www.bangalorebest.com)

'Quick Repartee is my style'

Vasundhara Das is Net savvy. And she wouldn't mind chatting with Elvis Presley.

(Source : www.rediff.com)

The name is:
Vasundhara Das
Claim to fame:
Pop-star turned actress with a couple of hummable film songs - like Shak A Laka Baby (Nayak), Rabba Rabba (Aks) and O Rey Chhori (Lagaan) -- to my credit. Also starred in Citizen alongside South Indian heartthrob Ajith and was also cast as Kamal Haasan's first wife in Hey Ram. My album 'Meri Jaan' is currently riding the airwaves and my first international film project, the award winning Monsoon Wedding, hits theatres across the country on November 30.

On a scale of one to ten, how Net-savvy are you?:
I'd probably give myself a five. I'm not completely clueless because I have a PC and surf whenever I'm home.

How often do you surf?:
The past year has been chaotic, thanks to my travelling all across the country, so I haven't had much time. When I do get online, however, I surf for at least a good two hours.

Your idea of a perfect Web site?:
User-friendly would describe it best. It should give one a complete, in-depth perspective on things, ought to be pleasant to look at and sustain a surfer's interest.

Sites your frequent?:
I visit google and check hotmail often.

Have you bought or sold anything online?:
I haven't, but I'd like to.

Do you go ego surfing, checking out pages or sites devoted to you?:
*Laughs* Actually, I have. I found this site and was pleasantly surprised with the information it had. Every interview I've given and photograph that's been published was there. It's updated constantly, too, and that's interesting.

A celebrity you would love to chat with online?:
Someone really witty. Quick repartee is my style. If I had to choose from anyone dead or alive, I'd probably say Elvis Presley. I'm a big fan!