1. www.usafilms.net

2. www.theglobeandmail.com

3. http://entertainment.zeenext.com/

4. www.exclaim.ca

5. www.punjabilok.com

6. www.mirabaifilms.com

7. www.hinduonnet.com

8. http://filmfare.indiatimes.com

9. www.urbancinefile.com.au

10. www.timesofindia.com

11. http://movies.thenewspapertoday.com

12. www.msn.com

(Source : www.usafilms.net)

FILM: MONSOON WEDDING
RELEASE DATE: Opens 2002
DIRECTED BY: Mira Nair ("Kama Sutra," "Mississippi Masala," "Salaam Bombay!")
CAST: Naseeruddin Shah, Lillete Dubey, Shefali Shetty, Vijay Raaz

For the first time since her Academy Award-nominated "Salaam Bombay!," acclaimed filmmaker Mira Nair explores a contemporary, global India - one where the new "dot.com" society co-exists with ancient tradition in improbable harmony. The exuberant ensemble comedy, the winner of the top prize (the Golden Lion Award) at the 2001 Venice International Film Festival, links the stories of far-flung family members, their servants, and secret lovers. As a Punjabi family in Delhi reunites for their daughter's wedding, love and conflict are sparked, and true confessions are blurted out even on the way to the altar.


(Source : www.theglobeandmail.com)

Monsoon Wedding
Rating:***
Mira Nair (India)
Managing her hand-held camera and her ensemble cast with equal dexterity, shifting the tone effortlessly from comic to dramatic and back again, director Mira Nair has fashioned an amiable tribute to the enduring power of familial love. In the upper-class India of cellphones and e-mail, an extended clan gathers for a massive wedding, whereupon the plot splinters off onto separate tangents all neatly controlled by Nair's deft touch. The characters speak in a democratic mix of Hindi and English, and the movie displays a similar balance - the rituals of the wedding ceremony, the song and the dance, add a colourful texture to the multiple storylines. The result is a genial marriage of Western ironies and Eastern melodrama - Robert Altman meets Bollywood. - R.G.


Showers of praise for Monsoon Wedding

(Source : http://entertainment.zeenext.com/)


Mira Nairs vision of an elaborate wedding in India Monsoon Wedding won top honours on Saturday night at the Venice Film Festival with the Golden Lion award for best film.

L`Emploi du Temps (The Use of Time), by French director Laurent Cantet, a true story of a man who resorts to murder to keep alive a fictitious life he has created for himself, won the second Golden Lion in a new competition category of Cinema of the Present.

Monsoon Wedding, which was a favourite at the Cannes Film Festival and also Venice, was shot in a month using hand-held cameras and depicts a colourful and musical wedding in Punjab.

"This one is for India, my beloved India, my continuing inspiration," Nair told the audience as she held the small Golden Lion statuette she won for the Naseeruddin Shah-Rajat Kapur-Lilette Dubey starrer. She called the film "nothing but a testament to life.

The festival, which had only boasted a few big name celebrities during the week, was noticeably thin on the glam front Saturday night without top draw Nicole Kidman, who left days ago.

The 58th annual Venice festivals Grand Jury Prize went to Hundstage, by Ulrich Seidl. Iranian director Babak Payami won best director for the Iranian-Italian production Secret Ballots.

The jury awarded Alfonso Cuaron best screenplay for Y tu Mama Tambien, (And Your Mother Too), a box office hit in Mexico about friendship and sensuality, albeit one told with extremely graphic images and language.

Italian actors picked up the best actor and actress categories.

Luigi Lo Cascio won for Luce dei miei Occhi (Light of My Eyes), about a lonely young man and his obsession with a single mother.

Best actress went to Italian Sandra Ceccarelli for her role in the same film by Giuseppe Piccioni, whose last film Out Of This World was Italys 1999 foreign Oscar candidate.

The Marcello Mastroianni prize for the best young actor or actress went to Gael Garcia Bernal and Diego Luna for Y tu Mama Tambien.

"Never let go of it," American actor Peter Fonda told the young actors after awarding them the prize.

Director Jan Cvitkovic won a special Golden Lion award for a first film for Kruh in Mleko.


Monsoon Wedding

(Source : www.exclaim.ca)

Toronto International Film Festival 2001
by: Paul Thompson
September 10th 2001

(Directed by Mira Nair)

It is not surprising that weddings are a popular subject matter for filmmakers. Perhaps the seventh art is the best equipped for capturing the frenzy of characters, events, and emotions that converge on these celebrations. For the screenwriter, wedding movies afford the opportunity to work with a large cast of characters; for a cinematographer, they provide justification for numerous camera and lighting styles in the same film from day to night, from handheld to dolly track, and so on; for an editor, they offer both a pre-determined chronology that is familiar to the audience, and an array of scenes that can get even the weakest of editors out of a jam; while for a director, wedding movies are like stock options of audience acceptance because, for the audience, wedding movies are expected to be good-natured affairs that afford a chance to celebrate and skewer our own cultural traditions, within a context that promises romance, music, and (because theyre movies) a whole ensemble of good-looking people.

For the Gala programmers, with their well-earned a reputation for taking only the safest bets, Nairs film "Monsoon Wedding" was probably not much of a gamble, as it is the both conventional and entertaining. But to dismiss this film on the basis of a programmers lack of nerve would be unfair. While the film proudly embraces both Holly- and Bollywood traditions, it relies on these as a way of warming the audience to its good-natured, though pointed observations about contemporary and traditional values. Set in Nairs home, Delhi, India, "Monsoon Wedding" focuses on a relatively wealthy, bourgeois man, Lalit Verma (Naseeruddin Shah), and his efforts to organise his daughters wedding. Lalit has a great deal of love for his family, but limited patience for many of the modern tastes that seem to have infected those around him, and less for "idiots" such as his unfortunate nephew, a college student who has recently returned from Australia.

This is not to say that Lalit is any sort of luddite. As early as the first scene, we see him talking to his wedding planner P.K. Dube (Vijay Raaz), on a cordless phone, negotiating with ease in a mix of Hindi, Punjabi, and English. Though this is Delhi, not Delaware, audiences will notice that things seem comfortably familiar this is still a wedding movie, after all. Helping to elevate the film are the finely-tuned performances by the multi-generational cast. Veteran Naseeruddin Shah, at the centre of things as Lalit, is supported in his world-weariness (or is that wariness?) by Vasundhara Das as his daughter Aditi, and by Shefali Shetty as his niece, Ria. As the films female leads, Das and Shetty bring an awareness of both external and internal pressures overwhelming their characters. Also of note is Vijay Raaz, as wedding co-ordinator P.K. Dube. As I watched Raazs performance, I couldnt help but think about the notes I might give to Chris Tucker ("Rush Hour"). Introduced initially as a lazy braggart, P.K. Dube appears to be the films most blatant comic relief. Of course, as anyone who has seen a Chris Tucker movie can tell you, a one note comic performance quickly becomes, well, merely annoying. Fortunately, Sabrina Dhawans script gives Raaz a chance to show Dube in the stages of love-struck transformation. Where Tucker might give us his romance shtick for a scene or two to show a "softer side," Raaz and Dhawan develop an genuinely warm subplot that shows Dube clumsily courting the Verma familys maid, Alice (the enchantingly subtle, Tilotama Shome).

"Monsoon Wedding" is groundbreaking in neither content nor style. As a wedding movie, it delivers on our expectations of competence and content. But "Monsoon Wedding" is also undeniably charming. As a response to the conflicts facing her characters, Nair chooses sincerity over sentiment. As Aditi faces the dilemma of an arranged marriage and its conflict with her contemporary experience and relationships, she turns to her modern sensibilities of honesty and openness to forge a better marriage. For Lalit, who is must come to terms with his niece's shocking revelation in the midst of the social conventions of a wedding, it is the trust engendered by family that guides his decision. And finally, at the heart of P.K. Dubes transformation is his caring for Alice. It is through Nairs commitment to her characters, and through their caring for each other, that "Monsoon Wedding" manages to be a wedding movie that delivers the warmest laughter.


Mira Nair wins Golden Lion at Venice

(Source : www.punjabilok.com)

Mira Nair has made history at the prestigious Venice Film Festival, becoming the first Indian and the first woman ever to win the festival's top prize, the Golden Lion, for her film Monsoon Wedding.

Describing Monsoon Wedding as a love song to Delhi, Mira Nair dedicated the Golden Lion to India. "I am very pleased, especially tonight for India. We have a powerful cinema that is known in one half of the world and not in the other half. And this award comes from the other half of the world. It's a matter of great pride and honour to us," she said.

Monsoon Wedding, starring Naseeruddin Shah, Lilette Dubey, Khulbhushan Kharbanda and Shafali Chayya centres around a monsoon wedding and an Indian bride who is having an affair just as she's about to step into an arranged marriage. It is a complex story of love, longing, incest and a Punjabi family reunion and like other Nair films, it is an emotional drama that mirrors change and upheaval in society.

"It's equal to getting the Palme dOr at Cannes or the Golden Bear at Berlin because these are the three biggest festivals outside the Oscars, said noted filmmaker Shyam Benegal.

"I expected nothing from the movie. I just wanted to explore something in a very free way, with very little money, with very little resources, and go back to basics again and explore and use whatever influence I had. I didn't want to make some big deal. I just wanted to make a small thing, which I am so happy to say has become big," maintained Nair.

Nair's film career shot into prominence first in 1988 with her movie Salaam Bombay, a story of helplessness and hope among street children in Mumbai. It got her an Oscar nomination in 1988 and an award for best camerawork at Cannes. Her film Kama Sutra, a tale of love set in 15th century India, however did not go down well with critics.

Born in Bhubaneshwar in 1957, Nair went to Harvard on a scholarship to study sociology in 1976. Her focus soon shifted to documentary films and then she went onto fiction, a medium she found best suited to communicate powerful stories of the complex world of human emotions.




Monsoon Wedding,a new film by Mira Nair
(Source : www.mirabaifilms.com)

An exuberant family drama set in Mira Nair's beloved Punjabi culture, where ancient tradition and dot-com modernity combine in unique and perfect harmony As the romantic monsoon rains loom, the extended Verma family reunites from around the globe for a last-minute arranged marriage in New Delhi. MONSOON WEDDING traces five intersecting stories, each navigating different aspects of love as they cross boundaries of class, continent and morality. The film celebrates a contemporary India never before seen on screen.
Mira Nair and the writer, Sabrina Dhawan, interweave the ancient and the modern, the old-fashioned and the irreverent, the innocent and the sexual in today's globalized Delhi. The intimate, handheld camera welcomes the viewer into the characters' lives and into Nair's own beloved Punjabi culture - robust, earthy and full of life. The audience is swept into the bacchanalian revelry of kebabs, whisky and Bollywood music that is a Punjabi wedding.
The family's hopes, anxieties and long-guarded secrets emerge amid frantic wedding preparations, and are juxtaposed with arresting montages of real-life Delhi. The relentless summer heat mirrors the story's building intensity as the city anticipates the cooling torrent of the monsoons. And when the rain comes, the cathartic downpour brings romance, revelation and liberation.
The father of the bride, LALIT VERMA (50), and his wife PIMMI (45), have endured the ups and downs of a fairly traditional marriage for years. As their daughter prepares to marry and leave home, they reach out to each other once again, finding deep comfort in the history they have shared.
The bride, ADITI (24), on the rebound from an aborted love affair with her former boss, VIKRAM (42), agrees to marry HEMANT (32), an engineer from Houston. Suddenly apprehensive about becoming a housewife in Texas, Aditi re-visits her lover the day before the wedding, throwing her future into turmoil.
P.K. DUBEY (25) is the upwardly mobile Tent and Catering contractor for the elaborate wedding celebrations. A cellphone-wielding wheeler-dealer, he is a member of India's emerging urban middle class. Dubey's tough pragmatism is outdone by the innocence and virtue of the family's maid, ALICE (20). He accidentally spies on Alice as she secretly dresses in the ornaments of her mistress and finds himself falling hopelessly in love with her. Theirs is the only pure and completely unexpected love story in the film, echoed by their bizarre shared habit of eating the core of marigolds - the Indian wedding flower.
RIA (28) is the unmarried writer cousin of the bride. As she watches Aditi plunge recklessly into marriage, Ria begins to assert herself to her family, defying convention and revealing a disturbing secret she has suppressed for years.
A story of steamy unconsummated teenage lust. AYESHA (17), another cousin of the bride, is a sexy Delhi 'babe' who meets RAHUL (19), a sophomore at the University of Sydney returning to India after five years. Surprised by Ayesha's boldness, Rahul becomes infatuated with this brazen young Indian woman who challenges all his assumptions about contemporary Indian culture.
This film is a love song to the city of Delhi and a portrait of modern, cosmopolitan India. Two-thirds of MONSOON WEDDING was shot in an affluent farm-house on the city's outskirts, the rest in locations in both the old and new cities: the exteriors of old Mughal Delhi and the gaudy charm of the wedding sari-shops of Karol Bagh juxtaposed with the chic ateliers of the city's established designer culture and its posh corporate world. The filmmakers use the mobility and economy of a hand-held camera, capturing subtle, expressive performances from a huge ensemble cast. The cast is made up of acclaimed Indian movie stars, highly trained theatre actors from The National School of Drama, and lesser known television actors and first-timers. The principal cast includes Naseeruddin Shah, Shefali Shetty, Vijay Raaz, Roshan Seth, Lillete Dubey, Vasundhara Das, Kulbhushan Kharbanda, Rajat Kapoor and Tilotama Shome. The film is filled with music, including ghazals (traditional love songs), modern Indian pop, jazz and bhangra (Punjabi folk/pop) music, all of which help to capture the varied and joyful sounds of a Punjabi wedding. The music and dance of old and new-style Bollywood is a constant presence in Indian life. MONSOON WEDDING echoes this Bollywood spirit with its vibrant score and with Ayesha's climactic dance number the night before the wedding. MONSOON WEDDING is a celebration of the sensual pleasures of cinema, of love at any age-anytime, and of the importance of family. It also pays affectionate tribute to a city where weighty tradition collides daily with global culture and the dot-com age, yielding an unusual and melodious harmony. MONSOON WEDDING is directed by Oscar(r)-nominated filmmaker Mira Nair (SALAAM BOMBAY!, MISSISSIPPI MASALA, MY OWN COUNTRY, KAMA SUTRA) and written by first-time screenwriter Sabrina Dhawan, who recently graduated from Columbia University's graduate film program. It is produced by Caroline Baron, who co-produced KAMA SUTRA as well as Joel Schumacher's FLAWLESS and Nicholas Hytner's CENTER STAGE. The cinematographer is the internationally acclaimed Declan Quinn (LEAVING LAS VEGAS, KAMA SUTRA, VANYA ON 42nd STREET and ONE TRUE THING). Mychael Danna, the award-winning composer of Atom Egoyan's films, Nair's KAMA SUTRA and Ang Lee's THE ICE STORM, scored the film, collaborating on an original song with one of India's leading pop musicians, Sukhwinder Singh.

A little big film

(Source : www.hinduonnet.com)

SHOT WITH HAND-HELD cameras in forty locations within one breathless month, Ms. Mira Nair's Monsoon Wedding was not regarded as a favourite to win the celebrated Golden Lion award at the world's oldest film festival in Venice. Film lovers in this country are likely to share the mixture of delight and surprise Ms. Nair expressed on winning the prestigious award (a ``small thing...has become big''), the first to be presented to a woman and an Indian. The director, who has earned a reputation for grappling with controversial issues in her films, dwells on the four days and nights which lead up to a traditional Punjabi wedding in her latest award-winning exertion which she says was conceived of in a ``spirit of lightness''. Colourful and energetic, Monsoon Wedding's narrative weaves the diverse strands of the family's inter-relationships against the noisy and boisterous backdrop of the impending marriage. Cracks begin to appear under the surface of the merry-making, not the least because of the discovery that an important member of the family is a child molester. Ms. Nair develops the tensions caused by the illicit trysts, the petty squabbles and the small acts of treachery to paint a portrait of an Indian middle class whose traditions are increasingly in conflict with change.

Awards are not new to Ms. Nair, whose India Cabaret, a portrait of strippers at Mumbai nightclubs, won the prize for best documentary at the American Film Festival as early as 1985. Her first feature film Salaam Bombay! secured the best new director award at the Cannes Film Festival as well as an Oscar nomination for the best foreign film. But as prizes go, this is surely the big one in the career of the 44-year-old film director, who leapt into the world spotlight with Salaam Bombay!. The quality of some of her work since then suggested she had failed to tap her full potential, but with Monsoon Wedding, Ms. Nair seems to have made a stunning comeback by capturing the approval of the jury at Venice and pipping a hotly-favoured Iranian film (Mr. Babak Payami's Secret Ballot) at the post.

In addressing the issue of paedophilia, and by locating it within the context of the compass of the family, Ms. Nair deals with an awkard and controversial subject. But this is typical of the courageous film director who believes that the cinematic medium should be used to provoke, to ``get under the skin''. Salaam Bombay!, her first full-length narrative film, is a piece of gritty realism which makes few concessions as it documents the squalid and poverty-struck lives of street children in a neighbourhood that is `worked' by drug-peddlers and prostitutes. Mississippi Masala is an exploration of colliding cultural worlds when a black rug cleaner falls in love with the daughter of Indian immigrants who run a motel in the American south - a story of racial biases, dislocation and cross-cultural influences. In Kamasutra: A Tale of Love, Ms. Nair explores the sexual politics between a princess and her servant in a 16th century Indian court. A film which focussed on the visual or the sensual aspect at the cost of an already thin and underdeveloped narrative, Kamasutra made as much news for Ms. Nair's 18-month battle with the Censor Board to have the film released for Indian audiences. Monsoon Wedding was showcased at the Cannes Film Festival earlier this year though not in the competitive category. The prize it picked up at Venice reveals the increasing recognition accorded to foreign cinema and ought to enthuse other Indian directors who feel - either legitimately or otherwise - that they do not receive the international appreciation and support they deserve.


Love In The Downpour

(Source : http://filmfare.indiatimes.com)

Mira Nair has a widely varying body of work, dealing with poverty, cross-cultural angst, sexuality, AIDS and more. Even so, her latest film, `Monsoon Wedding' is among her finest. As a member of the FIPRESCI Jury International Federation of Film Critics) at the Cannes film festival, one would have been a bit queasy having to judge a film by an Indian, but Nair's film is not in the official selection here. It is nonetheless a return of sorts, for her debut feature `Salaam Bombay' had won the Camera d'Or for best first feature in Cannes.

"I came to the last Cannes festival with the script and have finished the film in a year,'' says Mira Nair. "`It's a loud and raunchy film about a wedding in a Punjabi family, just like mine. It's about today's India.'' It features Naseeruddin Shah, Vasundhara Das, Lillete Dubey and Shefali Shetty. Nair has already started work on her next film `Hysterical Blindness' for HBO, starring Uma Thurman and Gena Rowlands.

'Monsoon Wedding,' which braids many strands revolving around an impeding wedding in a large Punjabi household in Delhi, has a wonderful energy throughout and above all, is a courageous film. It is hard to imagine an Indian filmmaker based in India finding the courage, producers, distributors and censors to support a film that openly discusses paedophilia, and an Indian family standing up four square behind a single unmarried woman Ria (Shefali Shetty) who reveals that she was molested by a close family friend. Tej Puri (Rajat Kapoor) when young, that too on the eve of a marriage, when 'ijjat ka sawaal' holds more sway than ever. Perhaps the nearest Nair gets to a feminist film, if one can call it that. It will be a litmus test for the maturity of our censors-an ability to accept reality.

Resident Indian filmmakers might like to look at how Nair cleverly transforms the standard mainstream wedding video formula, peppered with endless sangeets-and-dance--like 'Dilwale Dulhaniya Le Jayenge,' et al, into a film for an international audience, rather than just the Indian market and pockets of NRIs. Instead of a mere love triangle-there's a love quadrangle here-she enriches the film with many issues-the new Indian sexuality, hypocrisy, the low status given to single, unmarried Indian women, cross-cultural Indian values and paedophilia. Above all, it has a boisterous Punjabi spirit that keeps it buoyant throughout.

So Aditi (Vasundhara Das), on the rebound from an affair with her former boss, who marries another woman, agrees to an arranged marriage with a NRI Hemant (Parvin Dabbas). She insists on having a fling with her old flame the night before the wedding, and when the cops catch them in the backseat of his car, she manages to dump him and takes off in his car! How many Indian phillums have you seen that let her dump him and get away to happiness?

Writer Sabrina Dhawan pulls off a coup, bringing credibility to most of her 65 -odd characters, not to mention complexity. So although Aditi is two-timing, she is honest enough to insist on telling Hemant all about her affair before their marriage. Hemant is troubled, but appreciates her honesty and decides to go ahead with the wedding. So too, Lalit Verma (Naseeruddin Shah) is relieved to have an arranged NRI marriage for his daughter Aditi, but when his unmarried niece Ria (Shefali Shetty) unexpectedly reveals that she was molested when young by a close family friend and wedding guest Tej Puri (Rajat Kapoor), Verma stands by her and asks Puri to leave.

There have been other films dealing with the new Indian sexuality, such as Dev Benegal's 'English, August' and 'Split Wide Open,' 'Bombay Boys' et al. But this film goes one step further by daring to locate the paedophilia within the family friend ambit and having the family stand by the single woman victim. Nair realistically portrays urban Indian characters, including, say, the teenager wanting to grow up to be a dancer or a chef-rather than the funny, but not quite credible characters of a film like 'Bombay Boys.'

Most of all, the cynical, hypocritical upper class romance-sex is wonderfully undercut by a tender and poignant romance between a contractor, P.K. Dubey (Vijay Raaz) and the lovely household maid Alice (Tilotama Shome). Both are wonderful, but Vijay Raaz, an NSD Repertorywallah, comes across as perhaps the finest actor in the film. His portrayal of a sleazy, mobile-wielding contractor who is humbled by true love makes him the discovery of the year. There are excellent performances all round.

The peppy sound track borrows freely from mainstream cinema and popular tunes. The monsoon in the film is purely functional - irrelevant shots of the rain mid-way through the film, with the proverbial downpour during the wedding at the end, symbolizing fertility, greening, harmony. The rain disarms and drains away family tensions, and when the bride raises her skirts to tiptoe to her wedding in the slush, it is certainly time to let your hair down. A must must-see.

-Meenakshi Shedde

(Meenakshi Shedde is on the FIPRESCI Jury (International Federation of Film Critics) of the Cannes Film Festival.)


MONSOON WEDDING WINS AT VENICE

(Source : www.urbancinefile.com.au)

Mira Nairs film Monsoon Wedding has been showered with awards at the Venice Film Festival, winning the top prize, the Golden Lion.

The jury, chaired by Italian director Nanni Moretti and also including author Amitav Gosh and American director Taylor Hackford chose Monsoon Wedding over 19 other nominees, including films by Larry Clark, Ken Loach, Andr Tchin and Richard Linklater.

Monsoon Wedding revolves around the Verma family, who gather from around the globe for a last-minute arranged marriage in New Delhi. As the heavy rains of the title loom, five intersecting stories develop, each dealing with love across barriers of class, distance and morality. When the deluge comes, the cathartic downpour brings romance, revelation and liberation.

Other winners included Ulrich Seidls Hundstage, which won the Grand Jury Special Prize, and Freunde by Jan Krger, which took the Silver Lion award. Acting honours were swept by Luce dei Miei Ocche, with both Luigi Lo Cascio and Sandra Ceccarelli taking home statuettes. French director Eric Rohmer, a veteran of the New Wave movement, was honoured with a career Golden Lion.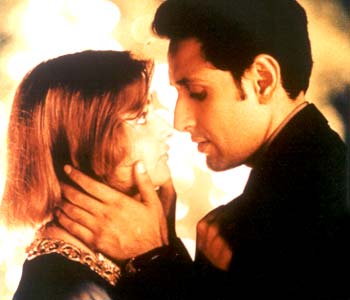 An Oscar end to Monsoon Wedding?

(Source : timesofindia.com)


MUMBAI: "Frankly, it's a masti-mazaa picture," Mira Nair whoops while tucking into a tandoori pomfret lunch at a Juhu hotel suite. "I didn't expect it to become so huge at international festivals, let alone win the world's most serious film award."

Her sixth feature film, Monsoon Wedding, grabbed the Golden Lion at Venice, became a cause celebre at the Cannes festival, and could well be among the top five nominees at the Academy Awards ceremony in Hollywood come March 2002.

Already U.S.A. films, a subsidiary of Universal Pictures, has initiated a heavy-duty campaign for the Venice winner. Meanwhile, the peripatetic producer-director air-dropped into the city on Friday to ensure that her much-feted film gets its premiere theatrical release in India on November 30. The nationwide release has been entrusted to Columbia-Tristar here.

Jet-lagged but characteristically peppy, the 44-year-old film-maker talked to The Times of India in her first interview in the city after snagging the plum Venice award.

"The chances of Monsoon Wedding at the Oscars are pretty strong," is all that she volunteers though its inclusion in competition hinges on the recommendation made by the Film Federation of India. The two other top favourite contenders for the nominations from India are Santosh Sivan's Asoka and Ashutosh Gowarikar's Lagaan.

On being prodded, Nair, her eyes smudged with midnight kohl, does disclose that the two-hour film - revolving around the hilarious and humane events that beset a Punjab wedding in New Delhi - will be contesting for the Golden Globes in the US, the Bafta awards in the UK and the Cesars in France.

"The overwhelming response has been that it's a feel-good movie with an universal appeal that cuts across all ages, classes and countries," Nair states, adding, "In fact, a Californian guy came up to me and asked, `Hey, how the hell did you make a film, which is so close to the story of my own family?"'

Still understandably euphoric about being lionised in Venice, Nair rewinds, "We were a 23-strong battalion here, including the cast, crew, my mum and son Zohran, and we were thrilled by the spontaneous audience participation at the screening. Italian aristocrats in diamonds and Dior, laughed and danced in the aisles throughout, eventually giving us a standing ovation of 15 minutes."

The film showcases an ensemble cast of 67 characters frontlined by Naseeruddin Shah, Lillete Dubey, Vasundhara Das, Shefali Shetty and Vijay Raaz. The director recalls that neither she nor the unit had expected to win at Venice. "I'd even flown to New York after the screening," her eyes rock-` n'-roll, "when I was bombarded with phone calls to return, pronto. As soon as I did, the paparazzi at the airport asked, `So senora, how does it feel to be the lioness from India?"

The Golden Lion, she points out, effectively translates into a 40 per cent increase in ticket sales in Europe for Monsoon Wedding. She has also been offered projects by six major Hollywood studios, "at least two of which are tempting. They'd allow me to paint a vaster landscape on a vaster canvas". By contract, Monsoon Wedding had a miniature canvas and was shot on Super 16 mm within 30 days in New Delhi "on a budget which was so tight that the food for the unit came from my mum's kitchen in Vasant Vihar".

What next? The prolific Nair has already wrapped up her next film, Hysterical Blindness, with Uma Thurman and Gina Rowlands. "I've just one life and so many moves to make," she says polishing off the pomfret lunch and concludes, "All I know is that I'd loooove to make a star-studded Bollywood blockbuster. Watch this space, huh?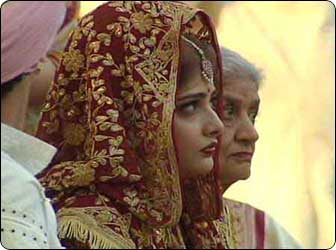 Monsoon Wedding

(Source : http://movies.thenewspapertoday.com)


Cast: Naseeruddin Shah, Lillete Dubey, Shefali Shetty, Vijay Raazn, Vasundhara Das
Director: Meera Nair


Indian filmmakers are increasingly making their presence felt in the West. M Night Shyamalan's commercially successful Philadelphia stories, The Sixth Sense and Unbreakable, as well as Tarsem Singh's The Cell have lately unleashed a cyclone of hype.

But for over a decade now, there's been one Indian filmmaker who has been pretty well known in the west Mira Nair. Breaking through with the gritty Salaam Bombay in the late eighties, Mira went on to direct such Hollywood stars as Denzel Washington (Mississippi Masala) and Angelica Houston (The Perez Family).

And now Mira's latest film, Monsoon Wedding, has sent her stock soaring with her being approached by six big Hollywood studios for their films. The film bagged the coveted Golden Lion at The Venice Film Festival and also won raves at the Toronto Film Festival. Ever since then, Mira has been wooed by various Hollywood studios for the rights to the film.

Mira Nair shot the film in just 30 days with limited resources. A fortnight of rehearsals were followed by a shooting schedule with a handheld camera, food from home and minimal fuss. The net result is that the film is said to wear a palpable air of intimacy, which plunges you straight into the characters' lives.

The film has several parallel stories. A well-to-do couple, Naseeruddin Shah and Lilette Dubey, are preparing for their only daughter's (Vasundhara Das) wedding in the time-honoured manner of North Indians with parties, decorations, hordes of relatives and lots of laughter.

Love is in the air a sort of monsoon equivalent to spring madness. The household's maid, the decorator, and Naseer's son all discover the myriad shades of love; while Naseer and Lilette themselves strengthen their own bonds.

But there's a subtler, darker undertone to the story. Vasundhara is torn between her straight-arrow arranged match and her go-nowhere relationship with her married lover. Also, Naseer's niece, Shefali Shetty, is the family rebel who has eschewed marriage for a career in writing and she has repressed a dark secret for long.

As the uncles and aunts pour into the house for the wedding, Shefali finds she can't hide her secret anymore. How will this affect the monsoon wedding?

The film is said to be at its most impactful in the beautifully captured scenes of familial love and support. As the relatives gather protectively around Shefali, they realise all that being a family entails.

A buoyant, typically Punjabi sense of joie de vivre and a irrepressible sense of humour lends the film a unique flaovur. It does delve into the dark side of human behaviour but essentially captures the feel-good element of large families bonding together.

The set-in-India film has easily understandable English and often segues easily into Hindi and Punjabi. Mira Nair is getting ready to release her film in India by the end of November. With its rave reviews and its crowd-pleasing storyline, the mass market might just take to it too.

After this cheerful, thoughtful success, Mira Nair has already completed an English film called Hysterical Blindness (with names like Uma Thurman and Gena Rowlands) and is actually considering a Bollywood project next.



Movie Review : Monsoon Wedding

(Source : www.msn.com)

Mira Nair's much-hyped MONSOON WEDDING is targeted at a niche audience.

Set in an upper class family of North India, it tells the story of families arriving in Delhi to participate in the marriage celebrations. But the story splinters off to three sub-plots:-

Aditi (Vasundhara Das) is marrying Hemant (Parvin Dabas), an Indian living in the US. But she has a past a relationship with Vikram (Sameer Arya).

Vasundhara's cousin, Shefali Shetty, has a past as well. A past that wrecks family ties a day before the wedding is about to take place.

P.K. Dube (Vijay Raaz), an eccentric 'mandap' decorator, loses his heart to Alice, the maid The celebrations have their share of heartbreaks and there are people falling in love.

Managing the ensemble cast and hand-held camera with elan, shifting the tone efficiently from light to serious sequences, director Mira Nair presents a human drama that unravels several truths.

What sets MONSOON WEDDING apart from films of this ilk (HUM AAPKE HAIN KOUN et al) is that the screenplay is straight out of life, tackling adult issues such as sex and incest.

The characters speak in a democratic mix of Hindi and English and that makes the goings-on motivating. The initial reels are just about okay, but the narrative gathers momentum when Vasundhara and her lover spend intimate moments before her marriage. The sequences thereafter, right till the last reel, keep the viewer's interest thriving thanks to a taut screenplay.

It is apparent that director Mira Nair has kept the elite/international market in mind while attempting the film. This is not one of those 'masala' films that have generous doses of commercial ingredients, aimed at the hoi polloi. However, the pre-climax portions involving Shefali Shetty, though brilliantly executed, are sure to shock an average Indian cinegoer.

Sabrina Dhawan's screenplay is vibrant and is laced with witty dialogue. Cinematography is colourful. The background music is appropriate.

The performances from the entire cast are of a high order. Naseeruddin Shah, Lillete Dubey, Vasundhara Das, Parvin Dabas and Vijay Raaz enact their parts with effortless ease. But it is Shefali Shetty who delivers a bravura performance.

On the whole, MONSOON WEDDING will win international acclaim and accolades from critics, but its adult theme will restrict its prospects to big cities in India. Business in the metros (mainly Mumbai) should prove to be the best.