ARTICLES / NEWS ITEMS
In this page.....
1.Confident in cinema's creche... the hindu
2. 'I want to be an all-rounder'... Interview....www.rediff.com
3. A star before the camera and behind the mike
(www.timesofindia.com)
4. about vasundhara.. a brief article..www.dhadkan.com
5. Vasundhara Das - A bundle of talent
...www.mantraonline.com
6. Interview .... www.sify.com
7. meri jaan ......www.i23entertain.com
8. from the hindu
9. Saturday night fever .... deccan herald
10. www.india-today.com ....Singing her praise
11. www.timesofindia.com ....Vasundhara Das : Scene and heard
12. Pavilion ropes in best of Indian Art : www.khaleejtimes.com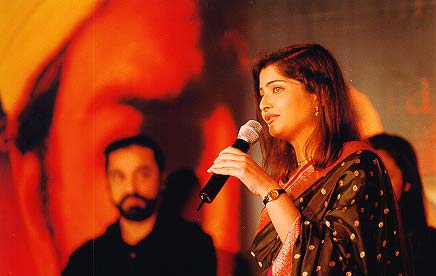 Confident in cinema's creche

(SOURCE : THE HINDU)

HEY RAM! What a different off-screen persona. Clad in a flowing crepe sari, Vasundhara Das is all of 22. And pretty as a picture.

If there are somethings in common between her timid, traditional reel image in Kamal Haasan's magnum opus "Hey! Ram" and her real person, they are those porcelain skin, ocean-green eyes and gentle voice.

Here in Chennai for the preview of her debut film, Vasundhara attracted media attention like iron filings to a magnet. Amidst the din and dark of the much-hyped, star-studded preview show at Devi, she agreed for a snappy interview.

It might sound like a cliche. But acting just happened to her. Actually, a passion for pop music made her hopscotch from Bangalore to Chennai.

Even while she was finalising an album with Magnasound, A. R. Rahman offered her the "Shak-A-Laka Baby" number in "Mudhalvan". News of her good looks and music talent spread, that even Mani Ratnam summoned her for a screen test.

"However, it fizzled out and I was down. Imagine being rejected by such a big director." But soon like a bolt from the blue, she received a call from Raj Kamal Films. "Tell me who would turn down an offer from Kamal," she rattles off.

Was she at all serious about films. "No. I see it as a launch pad from a career in music." Sounds strange, but true. Trained in Hindustani classical, to Vasundhara, language is no barrier. I write the verses in Hindi and render them," she says nonchalantly, running her manicured fingers through her hair.

No godfathers in the industry, no knuckle-breaking acting sessions, then how did this new entrant on the marquee find the going.

"Oh. I was scared. Initially, I was very nervous. But Kamal made me feel comfortable. He was very patient with me since I was a fresher. To begin with we shot scenes which did not demand much of dialogues. Gradually, I picked up the ropes, and things fell into a routine."

Then, when it comes to the sticky question of how she went about doing all those hot scenes in "Hey! Ram" Kamal's labour of love (no pun intended), Vasundhara, darting a shy smile says, "Kamal had briefed me about it in the beginning itself. He did not want his artiste to back out at the last minute. My role was well- defined and I had no qualms about doing it. After all a film like "Hey! Ram" is not made everyday. I am proud to be part of it."

A graduate, she hopes to do MBA sometime. But, meanwhile, the overnight media attention after "Hey! Ram" has only made "life a lot more difficult" for her. "Though personally I've not changed, now there is this pressure to live up to expectations."

Vasundhara is still in creche of cinema, but she is sure about what she wants. "There are some more offers. But I am not in a hurry to sign films. I would prefer to be selective. I want my music career to take off," she says. And certainly after a mega debut, no one would like to go for roles in which the heroine is just a piece of furniture. True. Furniture can be replaced, not actresses!

In traditional arakku sari, big bindi and vulnerable eyes, Vasundhara looks like a wary fawn in the film. But in reality she oozes confidence like any of those wannashines in showville. Yes. This shaka-laka baby is all set to reach out for the stars.





'I want to be an all-rounder'
She looks completely different from what she looks like on screen in Hey! Ram. For that matter, Vasundhara Das, 22, also looks very different from the schoolgirl I used to know, following her parents around to departmental stores or social gatherings.

"I am still plump, but nowhere like the way I used to be," says Vasundhara, lolling around in a sofa in her house in Malleswaram in Bangalore. "After I finished college, I went on diets, exercised like crazy and became very slim." Her mother Nirmala, home from work for an ever-increasing lunch break, watches her only child with a fond smile, reluctant to tear herself away from the daughter whose work keeps her out of Bangalore constantly now.

The young woman before me is an intelligent and warm person, poised on the brink of an exciting career in showbiz. Her first playback song, Shak-a-laka baby, composed by A R Rahman for the mega film Mudalvan, has made it to the top of the charts.

Her first movie, Hey! Ram, in which she co-stars with the great Kamal Haasan, will hit the screens across the country this week.

Yet, one gets glimpses of a young girl trying to come to terms with a life that has suddenly become very public and complex. Excerpts from Vasundhara's conversation with M D Riti.

. What was your experience of working with Kamal Haasan?

It was scary at first. I have not seen too many of his films, but I knew that he was reputed to be one of the finest actors in India. For the first 10 days, it was like a new world to me. He was very patient with me and gave me time to get comfortable with my role. On the first day, I just had to sleep. On the second day, I had to lip-synch for a song. Only later did he make me speak dialogues.

How do you like the fact that the Indian viewers' first introduction to you, courtesy the TV promos of Hey! Ram, are through some rather steamy scenes?

It is embarrassing that the first scene in your first film everyone sees is this big smooch. When people ask me about it, I just brush it off and make it seem like a big joke.

Did you know exactly what you were required to do in those scenes when Kamal offered you the role?

He did tell me everything about the role right at the time of my screentest. He also told me that if I refused to do those scenes, he would find someone else to play the heroine as the steamy scenes are an important part of the story.

The first thing I did was call home and tell my parents everything he said. I asked them whether they would like to talk to him about this. Kamal himself had asked me to think over all the implications seriously before I accepted.

However, my family and I decided that this was a good opportunity for me to start a singing career through acting in a film. Being in the entertainment business was what I had always wanted to do. We also decided we could trust Kamal to do those scenes aesthetically. We put our faith in him and were not disappointed. He handled it very well, very professionally. I put everything in perspective in my own mind, so I was fine.

But as a young woman from a conservative family, and not being a seasoned performer, did you find it awkward or difficult to do those scenes?

It did feel funny to be in such a position. But like I said, I had psyched myself into it, by telling myself repeatedly that it was just another day's work that had to be done for the film to move on and my career to get ahead. It had to be done. And since it was handled well, that was okay.

Did Kamal tell you what he saw in you or why he chose you for the film?

When he hired me, the rest of the cast was finalised. He was looking for someone who looked a little like Hema Malini, who plays the heroine's mother in the film. He wanted someone with an Iyengar nose, with the front lobe a little lower than the nostrils, as mine is. He also agreed rather sheepishly later that my eyes were the same colour as his daughter's, and that made him feel warm towards me.

Did he want someone very young too? You look much younger than him on screen...

Yes, that is in the story too -- that I have to be much younger than him.

When did Shak-a-laka baby happen?

Almost a month after the shooting got over. Doing that song was the break I had waited for a long time. I desperately wanted A R Rahman to call me to do a song, but I knew that one has to be patient at such times and wait for things to happen.

He called me for a trial, and said that if it didn't work out the way he wanted, I would just have to turn back and go home. I was a little scared myself, because I did not know whether I would be able to handle Tamil lyrics. But there were so many people to help me out with all that. It turned out to be a great beginning in playback singing.

After Shak-a-laka baby and Hey! Ram, what next?

I did another song called Pathikichi for A R Rahman after that, for the film Rhythm. It is a melodious number, with much more singing involved. I am quite happy with my performance in that song. The film is yet to be released.

I am putting acting on hold till my work on the new album I am doing for Magnasound is over. That should be done by April. By then, Hey! Ram would have run for a while, and I would be able to see how I look and sound in the film.

Meanwhile, I gather you are doing other kinds of showbiz work, such as compering and performing in shows...

Yes, the one thing I like about the entertainment business is that it allows you to be versatile. You can be a singer, a dancer, an actress, whatever. I want to be an all-rounder in showbiz for a while. I decided on all this only after the film, because till then, I did not think I could do any of this. I am now discovering myself, trying to find out what I can do well.

So, do you want to be a singer first, or an actress, or both?

Right now, I am hoping that I can do both because of the fantastic breaks that I have got in acting and singing. I want both careers to develop together. Ideally, I would like to sing my own songs in the films I act in, and also bring out music albums. I want the music career to be a long-term one, because the acting career may not be so.

Music will be my first priority now, and acting my second. At this stage, both are merging well.

Don't you plan to try modelling as a third career option?

Modelling could be relaxing and fun, because one doesn't have to remember dialogues. But it's certainly not a priority. If it comes my way, I might do it.

Marriage is also not a priority now, I gather? You are not looking for a Nene to whisk you off to the US...

No way. That will have to wait. I am in no hurry. And I certainly would not want to go away to the US now. There is far too much at stake for me here, professionally. Besides, my parents have only me, and I have only them. It would not be fair for me to go too far away from them.

Do you like living out of suitcases, as you appear to be doing now, shuttling between Bombay, Madras, Bangalore and wherever else?

It's getting tiring, but I don't have the time to concentrate on important issues like keeping a healthy routine. I need to settle down in one place, but I don't yet know which one.

How did you get started in music?

Music started really early for me. I began learning Hindustani classical music when I was barely six. My grandmother was extremely interested in it, and she encouraged me to take music more seriously than she herself was able to in her life. She was a student of Gandharva Mahavidyalay of Delhi when she was a child, so she began teaching me herself. I learnt with her for a few years. Of course, at that time I was most reluctant and kept running away, missing my classes with her.

As the years went by, I went through three teachers and finally settled down with my present teacher, Parameshwar Hegde, who was a disciple of Basavaraj Rajguru. After I got into college, I realised I liked Hindustani music. I also began singing in my college choir -- that helped me broaden my music horizon vastly. Now I love and understand music very well, and still try to take lessons from my guru when I am in town.

Interestingly, until I reached high school, I was never interested in even listening to western music. Then, after a holiday in the US, I suddenly heard a lot of it, fell madly in love with Elvis Presley and what have you. I also always enjoyed listening to ghazals and wanted to sing them myself.

Did you seriously intend to make music your career?

Yes, right from the time I was in the sixth standard! I wanted to be a professional singer, but I was not sure where I would be able to fit in. My parents frequently organised baithaks for local talent at home. First, I wanted to be a pop singer. Later, I enjoyed being in the college choir, and used to sing solo at student festivals. I was realistic enough to know that I might never make it as a singer, but I kept hoping I could.

However, my mom kept telling me that I must have an alternative career to fall back on. I am so glad that she did that. I graduated in Economics and Statistics, wanted to do an MBA, but never got around to it as my music career took off.

Did you just take a train to Madras one fine day and make the rounds of studios and music companies? How did Kamal Haasan and Rahman find you?

I was sitting around for a long time waiting for things to happen, meeting people in the music business in Bangalore. After seven long months, I realised that nothing whatsoever was moving. Time was running out. I had given myself a year, from 1998 to 1999, to prove myself in the artistic field.

I decided to go for a makeover, get into shape. I was really plump. I went through a few diet programmes, new exercise routines and started feeling good about myself. When you look nice, you feel nice and come across as more confident. After I lost all that weight, I went to Madras, intending to stay for just a few days with an uncle. My mom wanted me to stop pursuing a career in music and get back on track with my fallback career options. So it was my last-ditch attempt.

I took three days to get used to the city, then walked into the Magnasound office in Madras and met Madhav Das, who is one of the top guys there. I just said to him, 'I want to sing.' He told me his producer was down from Canada and he would arrange for me to meet him. I met this producer, Praveen, the next day, and sang a Whitney Houston number for him. He was very impressed and told me to come back the next day.

Later, he told me that he met me only because he was intrigued by the fact I could sing in Spanish. I had learnt the language when I was in college, just out of interest. We also discovered we both liked rhythm and blues, and decided to get down to work. We wrote a song together, composed it and recorded it in his house. To my surprise, the recording was brilliant, it was studio quality. The song was great. So we did another song in three hours the next day, and a third on the third day. Soon, we had two songs in English and one in Spanish on a demo tape.

Then we decided to do an album together. Meanwhile, he also took me to meet Rahman whom he knew well since they used to play together in a band in college. I don't know what Rahman really thought of my voice because I did not hear from him then. But three days later, Mani Ratnam's office called to ask me whether I was interested in acting career!

I was simply stunned, because just before that Pravin and I had been joking about this possibility. Pravin asked me whether I wanted to act in films, and I said yes, but only if I was asked by Mani Ratnam! I did a test for him, but I was not at all serious about it. He too, concluded that it was not the right time to sign me up.

How could you have not been serious about doing a screentest for Mani Ratnam? Anyone in your place would obviously have given it her best shot...it would have been the break of a lifetime!

Actually, I just did not think I was capable of being an actress. The prospect of a Mani Ratnam film was too sudden and too big for me to handle. I think I came across as a hesitant and unsure person. He told me that I might have a future in films, but that I would have to come to my next screentest in the right frame of mind. He told me to go and get some experience, and then come back to see him.

I went back home rather depressed, feeling terrible that I had blown my one big chance away. I concluded that I was not cut out for an acting career. But by the time I reached home in Bangalore, Kamal Haasan's office had called and left a message with mom asking me to return to Madras at once for a screentest for Hey! Ram.

At the time, I was quite disheartened. I thought I had just found out I was not fit to be an actress. But then, I had nothing to lose by doing just one more screentest. So back I went to Madras. To my surprise, I got the role. It was mainly the thought -- that doing a role in a Kamal Haasan film might do wonders for my uncertain music career -- that made me accept the offer.



Source : www.rediff.com

A star before the camera and behind the mike

(www.timesofindia.com)

BANGALORE: As a precocious six-year old and recalcitrant music student, she would often run away from her music guru at that time -- her grandmother -- to miss her Hindustani music lessons.

It was only after much coaxing, that she would reluctantly return and complete her riyaz. Had she got her way then, Vasundhara Das, singer, actress and music video star would have little to look back on in terms of her music or movie career.

From the young girl who stood before thousands of music lovers at college rock shows and captured their hearts with her soulful voice to the confident singer and actress who can hold her own both in front of the camera and the mike, city-girl Vasundhara Das has more reason to celebrate her success now, than before.

The reason -- Mera Nishaan her newly launched music album.

Remind her that something she has always dreamed of for a long time, has now turned into reality and the smile that tugs at the corners of her mouth metamorphoses into an enormous grin. For the girl who admits that music is her first love and who confesses that she became an actress by default, her debut album has made her an even greater talent to reckon with and true to its name, she is all set to leave a mark in the music cosmos.

Though she has several films and film offers tucked under her belt and more offers are pouring in from music directors for movie playback, at the moment, Vasundhara seems more excited about her album than her promising career in filmdom.

Bangalore Times met her as she was winging from Chennai to Mumbai with a brief stopover in the city and she gave us an insight into her passion for experimenting, innovating and breaking all boundaries in music.

Her album,Mera Nishaan, launched by Magnasound is already topping the music charts with the catchy single Meri Jaan being played on all the major music channels.

"I actually wanted to pursue a career in singing, right from the time I can remember. Movies actually happened by chance, but I'm glad they happened. I have enjoyed myself and learn't a lot in the film world," says the singer and actress, adding, "The album is the outcome of a lot of hard work and the encouragement of people who believed in me. The music for the album has been composed by Pravin Mani. The video has been shot in Agra at the Taj Mahal."

Though she is quite familiar with the camera now, after Kamal Hasan's Hey Ram and Mira Nair's A Monsoon Wedding, Vasundhara says that shooting for a music video is altogether a different experience from acting. "It's fun and you feel so much more alive.'

So will it be music and music videos or movies that Vasundhara will eventually choose in the long run? "At this stage in my career, I want to take things easy and concentrate on working well rather than taking up too many things and making a mess of them. I will do both movies and music, but I will make sure that I give both my best."


She has won the Filmfare award for Shakalaka Baby, a superhit song from Mudhalvan, a Tamil film, and thats not the end of the story. A lover of Spanish music, influenced by Indian classical music and also the Graceland God, Elvis Presley, her throaty renditions are characterized by an easy lack of inhibition.

Her training began around the age of ten under her grandmother. She later took lessons and still does from the Pandit from Kaharwa Gharana, Parameshwar Hegde. Her journey started from the college and she was a member of an all girl band that did many a gig in their heyday. Then came free concerts and jamming sessions in Bangalore at the Freedom Jam gatherings where artistes would play for free and exchange notes with other artistes and the audience.

Das also was a member of two bands, Jam Tree and River, with the latter into fusion incorporating classical Indian percussion instruments. Having an unconventional voice, background and sources of inspiration, which ranges from the tragic Janis Joplin, the folksy protester Joan Baez, Jon and Zakirs Shakti and Trilok Gurtu, she has an eclectic sense that surfaces in her debut album Meri Jaan, inspite of the constraints of the popular Love themes of Indi Pop.

Having worked with Rahman has also given her the confidence of working with an unconventional voice. At the same time her willingness to experiment with her influences gives an interesting range to Vasundhara Das. Like she says, Everything has to have a bit of me.


Source : www.dhadkan.com
Vasundhara Das A Bundle of Talent
(Source : www.mantraonline.com)

Vasundhara Das, belongs to a talented breed of performers. Right from her childhood, she proved to be a bundle of talent, who only needed a direction. Thanks to her parents, who were supportive of her pursuing her passion for music, today she is a recognized name in the world of music. She has rendered many a song for films down South and had a taste of the cinema spotlight in Kamal Hassans Hey Ram. Her portrayal of the character Maithili won her accolades and recognition. Today, however, she is back to her first love singing. Mantraonline.com with the singer turned actress for an exclusive tet-e-tet.

What prompted you to take the step towards acting?
When Kamal Hassan offered me the role in Hey Ram, I was not prepared for acting in films. But I took it as an opportunity and gave my screen test. Kamal Hassan thought that I suited the character of Maithali and thus I became a part of the project. Kamalji helped me a lot during the making of the film. My role was widely appreciated and everyone liked it.

Tell us about how you made your entry into the world of playback singing.
Music composer Pravin Mani arranged my meeting with AR Rehman, and thats how I got my first break. I started singing for Tamil and Telugu films and also have won the best female playback award in the 1999 Southern Filmfare awards. This boosted my singing career and till date I have sung for more than 70 films.

Do you think you can manage both singing and acting together?
I dont see any problem in being actively involved in both acting and singing. I have done Meera Nairs Monsoon Wedding. I am also doing a Tamil film opposite Ajit called Citizen. Then, I am also doing Achayan Tavir, a Tamil movie, directed by Madhavan, and a Malayalam film Ravana Prabhu, with Mohanlal. So I dont think there really is any problem. It is just the matter of managing yourself and I think I can do that. I dont find myself faced with any difficulties while doing so.

Do you have any plans of settling in Mumbai and do you intend to continue working in Hindi films?
Although, I dont mind working in Hindi films, I dont think I would like to settle in Mumbai. I prefer to shoot in Chennai because it suits me.

It is believed that Meera Nairs Monsoon Wedding was really tough?
Yeah! And I am expecting a lot from Monsoon Wedding. The film has been made for the film festival and I think that it should attract a lot of appreciation from the audience.

What is the feedback on your music album Meeri Jaan?
It is a very good album and I have received a lot of praise for it. Pravin Mahi has composed its music. All the eight songs in Meeri Jaan have been sung by me, and they all have a different style. We have worked on this album for one year and am quite happy that we have been able to deliver something different for the music lovers.

You run Freedom Jam, an organisation in Bangalore. What is it all about?
Freedom Jam promotes music and provides the platform to young singers who are talented enough and are looking for a break. I dont want other singers to suffer the same problems as I did. I learned my lessons from Pandit Parmeshwar Hegde and I had decided that someday I would do something about promoting music. So the concept of Freedom Jam took shape. I am very happy that it is doing fine and has been successful in its achieving what it had set out to.

What types of music would you like to work on?
Although I love all forms of music, I love Spanish, Indian Classical, Flamingo, Pop and Rock. I love to work on different forms of music. I am singing for Little John, an English movie. In Little John I will be singing in English, Hindi and Tamil. It should prove to a different experience, and a nice one at that!

Wishing you a very bright future Vasundhara!

Interview
(SOURCE : www.sify.com)
Vasundhara Das: Now it's more movies, more music for me


Vasundara Das, the golden girl with the golden voice, is coming to terms with her acting abilities, and realising that there could be life beyond music. That acting is also a career that could be pursued. Here, she speaks her heart to Sify:

How did you feel while making Hey Ram?
It was quite an amazing experience. Kamal Haasan is a great actor and he made me feel so comfortable. This doesn't mean he's not an amazing director. Also in terms of the role, it was a very complex and a challenging role, and to make a newcomer to do this role was a challenge in itself, and he did a wonderful job of it.

What are your hobbies?
I like moving around, travelling, camping, participating in nature sports. I love outdoor sports like white whitewater rafting. Also I love music.
Music is a part of my life and I can't imagine my life without music.

Given a choice would you go in for acting or music?
Music, because I never really thought about acting till the time that I actually started acting in Hey Ram?. For me music has always been the focus of my life.

From now, where?
Now it's more movies, more music. And now that Meri Jaan is out, it's like my portfolio in the music world. I am also starring in Aks and a tri-lingual film called Little John. I have done about 15 Tamil films, 3 Telugu films and from now it's going to be movies and music at par with each other.

A lot of people who have heard your voice say it's different yet similar to Shubha Mudgal's. What do you have to say to that?
I can't ever dream to compare myself to Shubha Mudgal. I don't have such a high-pitched voice and it's got a different texture.

Can you tell us about your experience while making your music album?
I had a great time while shooting this video, mainly because in my video team the eldest was 28. The director was 25 and everyone was in the age group of 23-25. For a lot of people it was the first time - like for the choreographer, the director etc. It was a good learning experience.

Did you face any problems while shooting this video?
On the first day itself we had some technical problems and we had to finish the shoot in four days. This was a difficult task, but we had to do it, as otherwise, we would have run into money problems, but we still managed to do it, and it was a fantastic video.

What kind of movies are you interested in now?
I'm open to all kind of movies. I like to be called a multi-lingual person, as I can speak English, Tamil, Telugu, Spanish, Kannada and for me language is not a problem and neither a barrier.

Meri Jaan


Artist: Vasundhara Das

Magnasound had been out for the last few years for a good Indipop singer. The search is over with the arrival of Vasundhara Das. For starters, Vasundhara is the same person who played role of Maithili in Kamal Haasan's film 'Hey Ram'. She has sung extensively for southern films and even won the prestigious Filmfare Award last year. She is a trained classical music singer. After getting associated with Freedom Jam (an institute in Banglore that promotes young talent), Vasundhara's career took off in a big way.

'Meri Jaan' presents her in her full versatility. Every song is put in with a lot of polish. The album reveals the singer's capability to mould herself according to the needs of the lyrics and music. For example, 'Mera Nishaan' is a song with an Arabic touch. Vasundhara renders it so that it has the right ambience. When she sings 'Bola Re', she switches to Latin rhythm. Then there is a fast and peppy number 'Aao Yaar' that sets the pulses racing. Vasundhara has been helped by the likes of Piyush Mishra, Pravin Mani and Sukhvindra Singh in conceptualizing this album and when so much talent comes together, the album is bound to be one to look forward to.
(Source : www.entertain123.com)
Source : THE HINDU
Saturday, March 24, 2001


VASUNDHARA DAS:

Claim to fame: Chennai's own `Shakalaka Baby', who crooned `Kattipudi Kattipudi da' in `Kushi' and also played the part opposite Kamal Hassan in `Hey! Ram'. And most recently, seen in the music videos of her debut album `Meri Jaan'.

She won the Best Playback Singer award at the Filmfare Awards last year. And if her album is any proof, the `Shakalaka Baby' has quite a variety to offer, from Arabian melody to Latin groove to soft ballads to peppy, racy numbers.

Bottomline: It would be worth a watch to catch India's own J.Lo in the making.

Post Script: Vasundhara will soon be seen in `Monsoon Wedding'. Now, wasn't J.Lo's movie, `Wedding Planner'? Quite a co-incidence there.

DECCAN HERALD

TUESDAY, MARCH 6, 2001

Saturday night fever!

They came, they sang, they conquered, says ARAVIND GOWDA of
the Channel V stars

Shehnaz, Mehnaz, Euphoria and Bangalores own artistes Vasundhara Das and the Balle Balle Boys on one platform... The Indi-pop crazy Banglorean couldnt have asked for more! The first to set the crowds rocking at Palace Grounds was DJ Ivan. He remixed numbers like Lady, Bailasmos, Who let the Dogs Out and the original sound track from the Hollywood flick, Charlies Angels.

Then, Balle Balle Boys Vineet Singh and Navdeep Singh of Bangalore gave us Bhangra-pop with Laddoo Kha and Balle Balle. Arre Bhai, a gangsta Hindi number aimed at the hip-hop dance floor enthusiasts, was the surprise item. And yes, Vasundhara Das, stole the show. With her lilting voice and gorgeous looks, she charmed one and all. From Shakalaka Baby from theTamil hit, Mudhalvan, to numbers from her debut album Meri Jaan, she sang them all.
Another star who had the crowds rocking was Shaan. When he sang Musu Musu and Tanha Dil, folks were thrilled. Euphoria, the band comprising Benny Pinto, Chris Powell, Gaurav Mishra, Palash Sen and Hitesh Madan, sang Tum Ho Meri Main Tumhara, and the Mai Hoon girl, Mehnaz, who is a dancing sensation too, crooned Miss India.
The Channel V event in Bangalore drew a greater response more than 5,000 music hungry people who reaffirmed their faith in Indi-pop.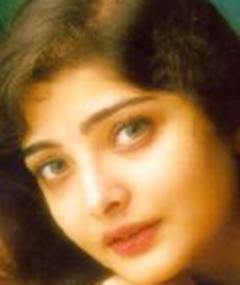 www.india-today.com

Singing her praise

The last time we met her, she had just cut a role with Kamal Haasan in Hey!Ram. A year and a few films - even a spurned offer with Abhishek Bachchan in Tera Jadoo Chal Gaya - later, Bangalore lass Vasundhara Das has just cut Meri Jaan, a Hindi album with Magnasound. From "jamming around the house", the 23-year-old, who Magnasound signed after hearing her demo tape, has the company's Bangalore head R I George Morris insisting the album's "nine pop songs will be a big draw". Big praise that!


Vasundhara Das: Scene and heard!

www.timesofindia.com

Singer and actress Vasundhara Das has a superficial connection with the Hotel Marina. Once upon a time, her husband had put up at the hotel! Just kidding, Vasundhara's role in the historical opus Hey Ram saw her playing wife to Kamal Hassan, who camped at the hotel while plotting a bid on Gandhiji's life. History, however, does not seem to cut much ice with Vasundhara. She is clearly surprised by the Marina connection. ``Oh really? I didn't know,'' she says, somewhat surprised.
But then, blasts from the past can take a back seat for the present. With the Bangalore beauty's album Meri Jaan having just hit the market, the singer in Vasundhara on the upswing. ``But why do I have to prioritise between singing and acting? Why can't I be a singing star... a person who sings and acts?'' she reasons. But then, reality dawns, and Vasundhara quickly adds, ``Actually, it will be difficult trying to juggle two careers. If I am promoting a music album in Delhi today, I will be in Chennai tomorrow to shoot for the film Citizen. Well, the best thing to do is to take things as they come!''
Always at the forefront of exploring new frontiers, Vasundhara helped form an all-girl band while still in school. And the first thing she did when she entered college was start a fusion band called River. As passionate about classical music as she is inclined towards jazz, Latino and Western beats, Vasundhara maintains that her musical experiments with life have influenced her soundscape. The lady, of course, knows a thing or two about striking the right note. After all, she conquered the charts with her very first playback song Shak-A-Laka Baby. ``Meri Jaan is an amalgam of varied influences. No formula has been adopted to decide on the songs which make up the album. My gut feeling is that music buffs, no matter how varied their tastes are, will find at least four tracks which suit their taste,'' offers Vasundhara.
Moving away from music, Vasundhara is in the thick of action down south with a packet of celluloid projects in the pipeline. And having already made an impression on Bollywood with Hey Ram, she is all set to secure a firm foothold in filmdom. A sonorous singer, an accomplished actress... it might take two to tango, but Vasundhara Das is one-of-a-kind!

THE TIMES OF INDIA ONLINE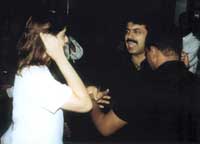 Pavilion ropes in best of Indian art

(www.khaleejtimes.com)

THE Indian pavilion, which has been drawing record crowds at Global Village, is the prime centre of attraction during DSF 2001 and has outdone itself in variety and size. As always, it is the largest and busiest pavilion in Global Village.

Sunil Bhatia of Indian Association, alongwith other Association members, has worked tirelessly to bring together a large number of artisans and handicrafts from all over India. 'We have had huge crowds at India Fair 2001, expatriates and nationals,' he said.

He points to nationals hopping on to two rickshaws which have been brought from Agra, and which move round the pavilion charging Dh5 or Dh10 per ride, and many others pose for photographs. 'On Friday, queues stretched a mile long as Adnan Sami was performing on the pavilion stage. We stay from 4 pm to midnight to ensure things run smoothly.'

The pavilion, stretching over 50,000 sq metres, is buzzing because of the non-stop free entertainment. The 25-member Bohri Band from Dubai strike up a military march for the Ambassador of India, K.C. Singh, one of the many VIP visitors. Male and female Punjabi Bhangra dancers beating drums, in colourful costumes, strike up a lively dance. Also in demand are the famous Kacchi Ghodi dancers from Rajasthan. A ropewalker from Rajasthan has the crowd open-mouthed as he does fantastic acrobats on a flimsy tightrope.

The artistes also perform on the large stage inside, with seating for 1500 people. Star singers including Manhar Udhas, Mohammed Vakeel, Vasundhara Das, Rajeshwari Sachdev, Vipin Aneja, Nandini Shrikar and Jeanne Michael and popular Indian artists such as Vasundhara, Rajeshwari and Vipin Aneja are due to perform onstage, besides schoolchildren and local artists who perform daily.

The stage and the rest of the pavilion are decorated in Gujarati style. Gujarat is the theme of India Fair this year, the timing accidentally coinciding with the quake. Fibreglass brackets representing Gujarati folk art decorate the walls and more than 70,000 lights are strung up around the pavilion etching out Gujarati motifs. The 124' x16' panel at the entrance depicts a Gujarati village scene, using 400 kilos of Gujarati mirrors and chalk mitti.

A team of eight professional workers were flown in from Gujarat for the decorations. Sunil Bhatia points out to a woman applying instant mehndi at a crowded stall. 'That is Gauribehn from Gujarat, the prime mover behind all the Gujarati decorations. You cannot believe the hard work all her team have put in. All the artisans are like family and played holi together.'

The massive entrance gates themselves, a replication of the Bulund Darwaza, have been created by a team from Calcutta. Said Gautam Rai, one of the craftsmen, 'We have been coming here for the last 5 years. The decor here is on a much bigger level than even the festivals in India, this gate is 60 feet high and 45 feet wide, and we have given it a 3D effect.' A huge Kutb Minar replica made in Madras dominates the centre of the pavilion.

Chima, dressed in colourful Rajasthani garb, sits on the pavilion grounds alongwith a similiarly dressed female companion, applying mehendi and selling ethnic toe rings, bangles and anklets from Rajasthan and lending a delightful village fair atmosphere to the scene. 'We are from Nolgar in the Kathputli colony,' she says.

A National Award-winning potter makes beautiful clay pots on a wheel nearby, which he sells for ten dirhams.

The more than 150 stalls, 75 per cent of them from India and the rest Dubai-based outlets, provide a showcase of the best of Indian arts and handicrafts. Twenty of the stalls have been provided free by Indian Association in support of artisans and handicapped organisations.

Stalls selling Gujarati ethnicware, mirror work, dolls, tie and dye work, dupattas, bags, Rajkot patra work, brass inlay on white metal, oxidised chests, zari work from Saurashtra, canework and teawood sculptures from Assam, Kolkata cutwork, Moradabadi brass, African style pottery made in India, brass plates with minakari work, leather chappals from Santiniketan, brassware, jute bags from Bengal, herbal food products and jewellery of every imaginable variety are just some of the delightful wares on display.

Subodh Debnath and his wife, who have been featured in National Geographic, write names instantly on a grain of rice, and have one of the busiest stalls, as their keychains and lockets sell for just Dh5-10.

Andhra Pradesh has a strong presence at the fair, with bidri work, lace work, Kondapalli toys, and a jeweller making chains from a choice of 11,000 designs. Andhra Day will be celebrated today at India pavilion with an Andhra magician, Marie Ramesh, artistes from that state due to perform,

Kashmiri stalls are in abundance selling handicrafts, Pashmina shawls, vases, etc. A number of organisations for handicapped like Drishti, Kiran Bedi's Free India Vision Foundation and a handicapped man selling miniatures are working for charity. The Indian Association is selling T-shirts, badges and mugs in aid of Gujarat quake victims.

If you want to tickle your tastebuds there are 14 food stalls offering a variety of food along with a 'dosa' specialist brought in specially from Andhra Pradesh. Pass Pass masala and Catch mineral water, bottled from the Himalayan heights in Kulu, also find many takers. Prime Medical Centre is offering free blood tests and blood pressure checks. Radio Four and Radio Asia are conducting live entertainment programmes.